GB will fulfil 2018 fixtures after £500,000 government bailout package agreed
Last updated on .From the section Basketball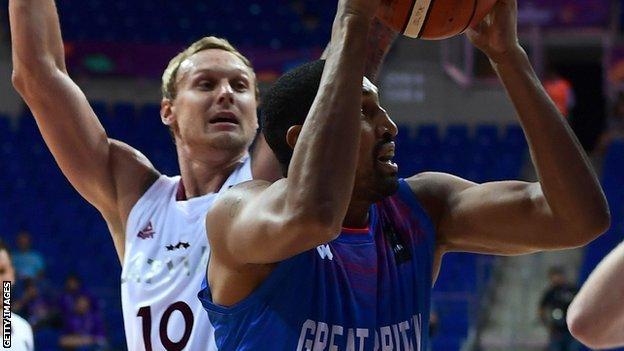 Great Britain will be able to fulfil their 2018 international fixtures after the government agreed a one-off funding package worth £500,000.
Sports minister Tracey Crouch approved the package after British Basketball revealed a funding shortfall that put their entire programme at risk.
An initial £195,000 will keep the GB men's and women's teams in action.
But the rest will depend on Britain's basketball authorities coming up with a plan to work together more effectively.
Crouch wants British Basketball and the three bodies under its umbrella - representing England, Scotland and Wales - to cease in-fighting that has damaged the sport's chances of progress.
She said: "I have been very clear that basketball bodies must work together to secure the future of the sport."
The one-off funding package has been created through Crouch's government department - Digital, Culture, Media and Sport - and is being distributed by UK Sport.
British Basketball said in February that it needed to find £1m urgently to fund its eight teams - made up of men's, women's and age-group sides - or consider scrapping the programme.
That would have lead to Great Britain being suspended by Fiba, the sport's world governing body, for failing to fulfil their fixtures.
Britain's men are set to complete their Fiba World Cup qualifying campaign with home games in Glasgow against Estonia on 29 June and Israel on 2 July.
The women's final two EuroBasket Women qualifiers are at home to Greece on 17 November and Portugal on 21 November.
Crouch held an emergency meeting in March with UK Sport and Sport England, as well as British Basketball, the home nation governing bodies and Fiba, to discuss how the British game can gain a more sustainable financial footing.
Basketball receives grassroots funding from Sport England but has not had any money for its elite programme since the 2012 Olympics, as UK Sport only supports sports it believes have obvious medal potential.
UK Sport's chief executive Liz Nicholl said: "It is disappointing that British Basketball has found itself in this situation, faced with significant financial challenges, but it is important that we put the athletes first so we are pleased to step in to manage this one-off support package for the sport."