Philippines v Australia basketball: Mass brawl at World Cup qualifier
Last updated on .From the section Basketball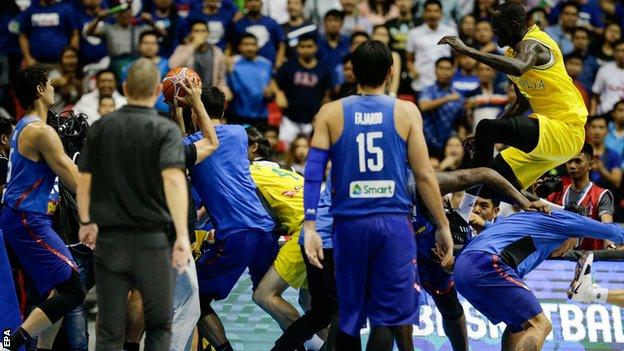 Punches, kicks and chairs were thrown as a mass brawl broke out between players in a Philippines v Australia World Cup qualifying tie.
The Philippines ended the game with just three players left on court after nine of their side were ejected.
Four Australia players were also ejected from the game, which their side went on to win 89-53 in Manila.
The International Basketball Federation (Fiba) has opened disciplinary proceedings against both sides.
The fight broke out in the third quarter of the game at the 55,000-capacity Philippine Arena.

"Basketball Australia deeply regrets the incident in tonight's match between the Boomers and the Philippines in Manila. We are extremely disappointed with what happened and our role in it," Basketball Australia chief executive Anthony Moore said.
"This is not the spirit in which sport should be played and certainly not in the spirit in which we aim to play basketball.
"We apologise to our fans and will await the penalties to be handed down."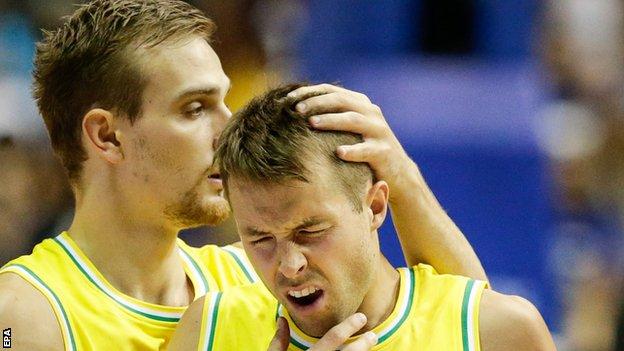 Philippine president Rodrigo Duterte's spokesman, Harry Roque, said the incident was "the height of being unsportsmanlike", while the team's head coach Vincent Reyes said it was "absolutely unacceptable".
Roberto Puno, vice-chairman of the Philippines' basketball federation, said he was proud of the way the players had "stood their ground" and were "fighting for the Filipino people".
Australian centre Thon Maker, who plays in the NBA for Milwaukee Bucks and was one of the players ejected from the game, said he was defending his team-mates.
"I am deeply disappointed in the actions displayed during yesterday's game against the Philippines," he posted on social media.
"I take responsibility for my actions knowing that they were a result of my desire to protect my team-mates and myself."