Matthew Marsh: English 16-year-old joins Barcelona's basketball team
Last updated on .From the section Basketball
"I first managed to dunk just before my 12th birthday," says Matthew Marsh.
Marsh, one of British basketball's rising stars, was a shade over six foot at the time.
Four years later - and now standing at 6ft 11in - the 16-year-old is preparing to leave home in Cornwall and join FC Barcelona Basketball - one of Europe's top teams.
He is likely to rub shoulders with Lionel Messi and Luis Suarez as the basketball side is part of the same set up that runs the football club. Their arena, Palau Blaugrana, is located right next to Camp Nou.
The oldest club in Spain's top flight, they are one of 16 teams in the EuroLeague - the top tier of basketball on this side of the Atlantic.
But Marsh's ambition is to get to the highest level of the sport he loves - starting with the Spanish side's youth set up before aiming to break into their senior team.
"The NBA is a dream," he said. "To go out to America and be part of the NBA and all the crowds and stuff would be amazing."
How did he get from Cornwall to Catalonia?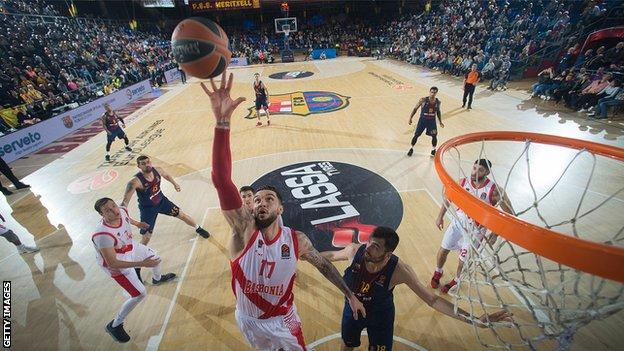 The move to Spain comes after years of practice and self-sacrifice.
Marsh left the small harbour-town of Penryn at 15 to play for the Reading Rockets in England's Junior National Basketball League.
"We searched far and wide for any clubs playing in any local park or any team that we could find," says Marsh, who will now join one of the biggest clubs outside of North America.
Having started playing with adults, he eventually found a junior team and soon was selected for the South West regional development team.
It was at a tournament for those sides from around England that Marsh was scouted and asked to trial with England's Under-15s, despite being two years younger than the age limit.
"I didn't get selected for that, but as a result of that I pushed myself to make sure I did it the next year," he added.
His persistence paid off and after making the national squad he caught the eye of scouts from across Europe at a tournament in Copenhagen, and the rest, as they say, is history.
Blake Griffin and his older brother
Marsh says his older brother Samuel is the biggest influence on him.
The sports science graduate and basketball fan first witnessed Matthew's interest in the sport when he showed him a video of the LA Clippers's five-time NBA All Star Blake Griffin and his powerful slam dunks.
"He's the reason I'm into basketball," says Matthew of his older brother.
"He sacrificed a lot in order for me to be at the level I'm at, he's put all the hard work into me and it's paid off, so I owe everything to him."
"I'm so proud of him and so happy to put my time and energy into his success," Samuel replies.
But both know that the hard work for Matthew starts now as he attempts to make a name for himself in one of the most competitive team sports there is.
Barcelona, but without Messi and Suarez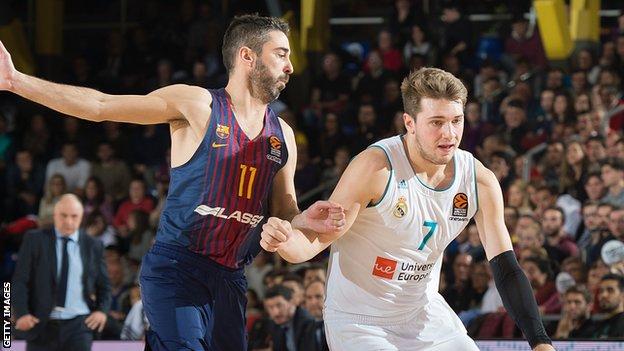 Barcelona's football team is renowned the world over, but less well-known in the UK is their basketball team.
They have twice won the EuroLeague title and produced the NBA superstars Pau and Marc Gasol.
But it is a player from their arch rivals Real Madrid (yes, there's an El Clasico in basketball as well) - Luka Doncic - who Marsh wants to emulate.
"He was the MVP of the Euroleague when he was 19, so I aspire to be like him, to push the boundaries and be the next youngest player to be the best in the EuroLeague."