Manu Ginobili: San Antonio Spurs guard retires after 23-year career
Last updated on .From the section Basketball33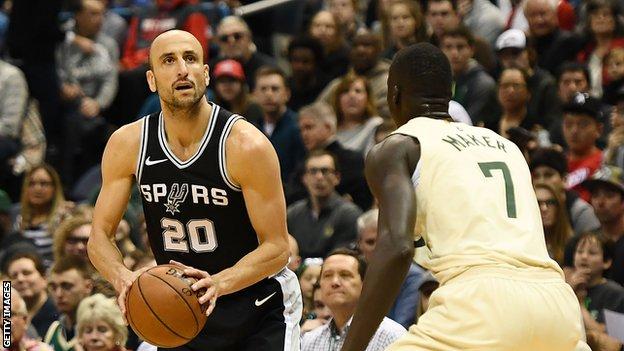 NBA chiefs described San Antonio Spurs guard Manu Ginobili as a "pioneer" of basketball after he announced his retirement following a 23-year career.
The 41-year-old Argentine, widely seen as the most successful foreign player in NBA history, is the only non-US player to have won four championships and an Olympic gold.
He is a two-time All-Star (2005, 2011) and was Sixth Man of the Year in 2008.
"It's been a fabulous journey," he wrote on Twitter.
"Way beyond my wildest dreams."
Ginobili began his professional career in 1995 in Argentina before moving to Italy.
He was selected by the Spurs with the 57th pick in the 1999 NBA, but did not join the team until 2002, instead he went back to Italy.
He rejoined the Spurs for the 2002-03 season where he began his NBA career - winning four NBA crowns between 2003 and 2014 and helping Argentina to a shock Olympic gold medal in Athens in 2004.
He played 1,057 regular season and 218 play-off games for the Spurs, and is ranked in the franchise's top five of all time for games, points (14,043), assists (4,001) and steals (1,392).
"Manu Ginobili is also a pioneer who helped globalise the NBA," said NBA commissioner Adam Silver.
"He is one of basketball's greatest ambassadors who believes in the power of sports to change lives.
"For 16 years, we were fortunate to watch a legend compete at the highest level. Thank you, Manu, for a career that inspired millions of people around the world."
Tributes to Ginobili poured in after his announcement on Monday, with former Los Angeles Lakers guard Kobe Bryant describing him as a "true champion".
"You are true champion my friend and one of the best I have ever matched up with. Enjoy life after the game hermano. You deserve that and more," Bryant added.
Three-time NBA champion LeBron James said: "It was a pleasure to match up against you over the years. Regular season, Finals, National Team, didn't matter was always a treat!"