Dallas Mavericks boss donates $10m after NBA probe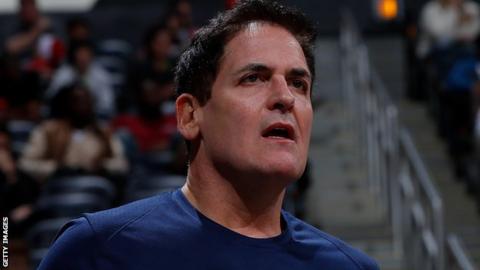 The owner of NBA side Dallas Mavericks will give $10m (£7.6m) to women's and anti-domestic violence groups after an inquiry into sexual harassment allegations within the organisation.
Billionaire Mark Cuban agreed to the donation after evidence of "disturbing and heartbreaking" workplace misconduct by current and former members of the Mavericks' franchise was found.
The NBA said there was no direct wrongdoing on Cuban's part but he did not pay enough attention to the workplace culture.
The investigation followed a Sports Illustrated report in February that detailed an environment "rife with misogyny and predatory sexual behaviour".
Among other things, the investigation found:
Improper workplace conduct toward 15 female employees by the Mavericks' former president and chief executive Terdema Ussery, including inappropriate comments, touching, and forcible kissing.
Former Mavericks ticket sales employee Chris Hyde made inappropriate comments to women of a sexual nature, unsolicited and unwanted sexual advances, and violent and threatening outbursts toward co-workers, and viewed and shared pornographic images and videos.
Two acts of domestic violence perpetrated by former team reporter Earl Sneed, including one against an employee.
Ussery has denied the allegations and blamed the Mavericks for refusing to address concerns he had raised, while Hyde and Sneed disputed the details of the claims.
The inquiry gathered information from 215 interviews with current and former Mavericks employees and evaluated more than 1.6 million documents, including emails and other electronic documents.
NBA commissoner Adam Silver said Cuban was "ultimately responsible" for the culture and conduct of his employees.
"While nothing will undo the harm caused by a select few former employees of the Mavericks, the workplace reforms and the $10m that Mark has agreed to contribute are important steps toward rectifying this past behaviour and shining a light on a pervasive societal failing - the inability of too many organisations to provide a safe and welcoming workplace for women," he said.
Cuban has apologised for failing to recognise the issues.
"First, just an apology to the women involved," he told ESPN. "I'm just sorry I didn't see it. I'm just sorry I didn't recognise it."