NBA League Pass: Fans to be able to buy access to live fourth quarter action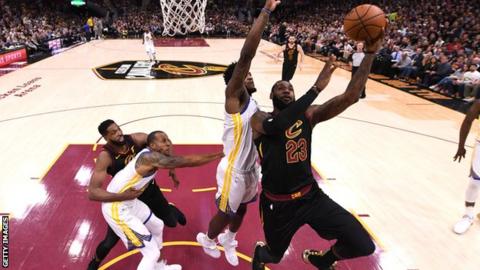 A last-minute Champions League-winning goal, or a Ryder Cup-winning putt - how much would you pay to watch those sporting climaxes?
If you're an NBA fan, it will cost you very little.
Starting this season, fans will be able to watch just the last quarter of a game "in real-time" for $1.99 (£1.52).
Instead of waiting to watch game highlights, fans will be able to buy access to live NBA action after the conclusion of the third quarter.
"It's a big moment," said NBA commissioner Adam Silver.
"But it's also a small first step. There are limitations in the technology right now, but we're working as quickly as possible so that, at some point in the near future, fans can choose to buy any part of any game."
The initiative will be available from the start of the season on 16 October through the NBA League Pass.
The new, season-long pass will be available through Turner Broadcasting's live streaming service, as well as the NBA website and app.
From early December, fans will have the additional option to buy a single game at the beginning of each quarter.
Silver added: "The new micro-transaction offerings on League Pass will deliver more customised experiences to meet the needs of NBA fans."