DeMarcus Cousins: Golden State Warriors player sent off despite already being injured
Last updated on .From the section Basketball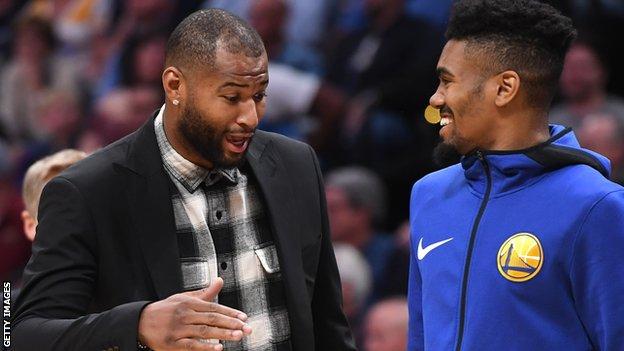 NBA bad boy DeMarcus Cousins was sent off during the Golden State Warriors game on Friday evening - despite already being sidelined by injury.
Cousins, 28, was sat near the bench when he earned a 14th career ejection for arguing with New York Knicks player Enes Kanter and referee Scott Foster.
Foster said Cousins was "warned" before being "ejected for one technical foul for unsportsmanlike conduct".
The incident occurred in the first quarter of the Warriors' 128-100 win.
Cousins, who has yet to play for the Warriors this season because of an Achilles injury, "took exception" to the warning, said Foster.
But the four-time All-Star was only issued one technical foul at Madison Square Garden rather than the two normally needed for a sending-off - because of the manner of his response to the official.
"I did check with Scott," Warriors coach Steve Kerr said after the game.
"He said [the ejection] was because he had already warned him and then he kept going at Scott, I guess, so I'll talk to him about it."
Cousins, who signed a one-year deal with the Warriors during the off-season, has also earned 119 technical fouls during his career.