EuroBasket 2021: Great Britain beaten by Austria in qualifying opener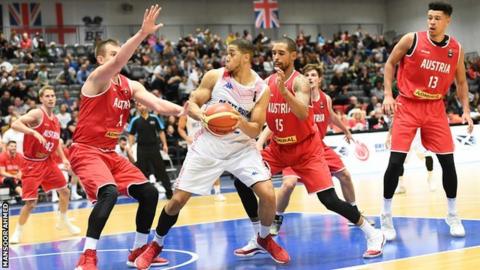 Great Britain's men began their EuroBasket 2021 qualification campaign with a 96-82 defeat by Austria.
Myles Hesson had 18 points for the hosts and Andrew Lawrence and Ovie Soko added 16 and 15 respectively.
The damage was done by Austria's Sylven Landesberg, who produced an awesome scoring display, hitting 47 points.
GB's next qualifier is an away game in Cyprus on Monday. With three teams in the group, they would need to win that to stand a chance of qualifying.
"We need to keep working - we have some plays that could have been better today but at the end it's about the spirit," said GB coach Alberto Lorenzo.
"We have players who are young and don't have experience at this level so we need time with them."
GB shot well in the early stages but Landesberg was always a threat, both on the drive and shooting from distance, hitting five three-pointers in his 40 first-half points.
The visitors scored the last seven points of the first quarter and then added 10 more without reply - 12 of this 17-0 run coming from Landesberg, who went on to score 25 second-quarter points as Austria led 60-42 at the interval.
In the second half, Hesson took on the job of stopping Landesberg by denying him the ball and was effective in that, drawing two fouls from him and scoring six points himself.
Yet GB still struggled to score themselves, despite Dan Clark adding a three-pointer to one from Hesson. Austria's lead was still 18 points (77-59) going into the last quarter and GB could get no closer than 14 points in the final 10 minutes.
| Group D | P | W | L | For | Against | PD | Points |
| --- | --- | --- | --- | --- | --- | --- | --- |
| Austria | 2 | 2 | 0 | 168 | 151 | 17 | 4 |
| Cyprus | 1 | 0 | 0 | 69 | 72 | -3 | 1 |
| Great Britain | 1 | 0 | 1 | 82 | 96 | -14 | 1 |