Damian Lillard scores 50 points as Portland beat Oklahoma to advance in NBA play-offs
Last updated on .From the section Basketball
Damian Lillard scored a dramatic three-point buzzer-beater from 37 feet to give the Portland Trail Blazers a 118-115 win against the Oklahoma City Thunder and a 4-1 series win.
It capped a remarkable night for Lillard, who scored 50 points.
At one stage in the fourth quarter the Thunder led by 15 points, with Paul George scoring 36 points.
Russell Westbrook scored 29 points, 14 assists and 11 rebounds for his 10th NBA play-off triple-double.
But it was not enough as the Thunder were knocked out in the first round for the third season in a row.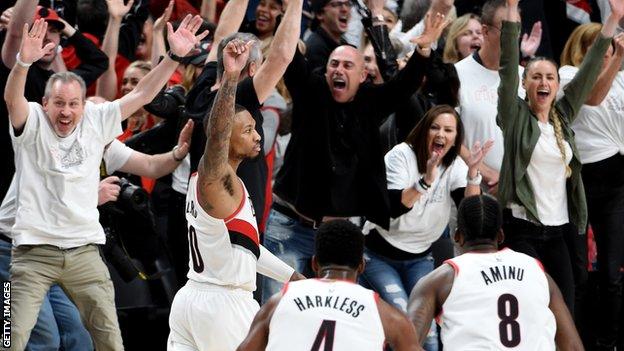 After hitting the game-winning shot over George, Lillard waved to the Thunder bench before he was mobbed by his team-mates.
"I was just waving goodbye to them," said Lillard. "That was having the last word."
It was a testy series between the two sides, with Lillard adding he had been motivated by Thunder guard Dennis Schroder copying his celebration of tapping his wrist in Portland's defeat in game three.
George said Lillard's game-winner was "a bad shot", though ESPN analysis showed that Lillard has hit 39.2% of his attempts between 30 and 40 feet this season against a league average of 25.9%.
Lillard was the last player to hit a buzzer-beater to win a play-off series, having made a three-pointer to secure a 4-2 Western Conference first-round win over the Houston Rockets in 2014.
The Blazers will play either the Denver Nuggets or the San Antonio Spurs in the Western Conference semi-finals. Denver lead that series 3-2 after Tuesday's 108-90 victory.
In the Eastern Conference, the Toronto Raptors beat the Orlando Magic 115-96 to seal a 4-1 series win and the Philadelphia 76ers beat the Brooklyn Nets 122-100 for a 4-1 series win.