EuroBasket qualifying: GB take control of group with second straight win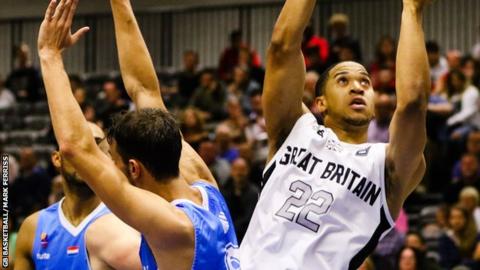 Great Britain's men posted a 71-54 win in their EuroBasket 2021 pre-qualifier against Luxembourg in Manchester.
Myles Hesson led GB's scoring with 22 points, Gabe Olaseni added 12 and Teddy Okereafor 10 in a game GB won with a strong fourth-quarter defensive effort.
Trailing 52-48 to the well-prepared visitors going into the last quarter, GB won it convincingly 23-2.
They now lead Group G with two wins from two games and play at home to Kosovo in Manchester next Saturday.
Coach Nate Reinking restored experienced forward Gareth Murray to the line-up in place of Jamell Anderson for the team's second qualifying tie in their latest and final attempt to make next year's main qualifying tournament.
After their opening-night win against Kosovo, Luxembourg were looking for a third qualifying win in a row and came close to achieving it.
The visitors started strongly in the first two quarters, most notably in the second, when they caught GB cold and hit a 14-2 run, frustrating their hosts by preventing any fast break opportunities.
Their 10-3 run at the start of the second half gave them a 41-35 lead and GB were looking as disjointed as they had in the game against Kosovo in midweek.
Trailing by four points going into the last quarter, GB improved their ball movement and tightened up defensively, holding Luxembourg scoreless for five and a half minutes and hitting a 9-0 run of their own.
Luxembourg's lone basket of the fourth quarter was followed by 14 more GB points, eight of them for Hesson as the hosts rolled to victory.
"They slowed the game and played a lot of zone [defence] - we had shots but we didn't finish them," said Reinking. "But the game opened up for us in the second half.
"We're breaking this down game by game. I think we saw big improvements from game one [against Kosovo] to game two."
Hesson added: "We didn't put our heads down through the whole game - we stick together through thick and thin. It shows how close the players are on this team that we ground it out for a good win."
| Group G | P | W | L | F | A | Pts | PD |
| --- | --- | --- | --- | --- | --- | --- | --- |
| Great Britain | 2 | 2 | 0 | 142 | 117 | 4 | 25 |
| Luxembourg | 2 | 1 | 1 | 142 | 151 | 3 | -9 |
| Kosovo | 2 | 0 | 2 | 143 | 159 | 2 | -16 |
GB's EuroBasket programme for August
7 August: Kosovo 63-71 Great Britain
Sat 10 August: Great Britain 71-54 Luxembourg
Sat 17 August: Kosovo (19:00, Manchester)
Wed 21 August: Luxembourg (18:00, Luxembourg City)