EuroBasket 2021: Great Britain beat Germany 81-73
By Rob Dugdale
BBC Sport in Newcastle
Last updated on .From the section Basketball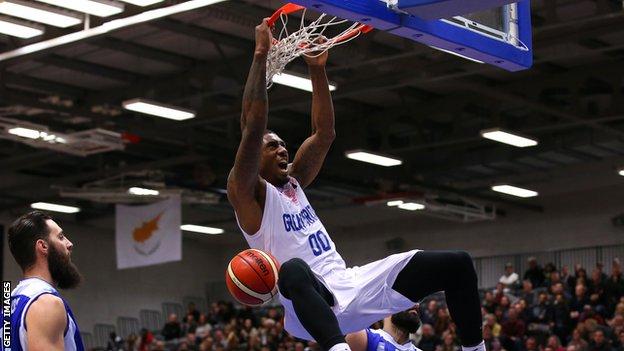 Great Britain's men produced an amazing finish to win their second EuroBasket qualifier 81-73 against Germany, coming through to win in the last six minutes.
Germany led 68-64 with seven minutes left but could not stop a 17-2 run from the hosts to settle the game in Newcastle.
Luke Nelson led GB with 26 points and Ovie Soko added 18 points and 10 rebounds.
GB's next games are in November, when they host both France and Montenegro.
Only three of the four-team group will qualify for the 2021 finals.
| Group Table | P | W | L | F | A | Pts | PD |
| --- | --- | --- | --- | --- | --- | --- | --- |
| Germany | 2 | 1 | 1 | 156 | 150 | 3 | +6 |
| France | 2 | 1 | 1 | 154 | 149 | 3 | +5 |
| Great Britain | 2 | 1 | 1 | 155 | 154 | 3 | +1 |
| Montenegro | 2 | 1 | 1 | 147 | 159 | 3 | -12 |
Nelson was lively from the start, hitting six of GB's first eight points before Germany began to find their shooting range, with four threes in the first quarter.
Nelson again provided the answer after the first interval, hitting 12 points in an 18-6 run, and looked dangerous almost every time he got the ball.
GB led 40-39 at half-time but were still not shooting well. That continued at the start of the second half and Germany took advantage, with their best shooter, Andreas Obst, scoring three times in a 14-5 run before Soko's two baskets brought GB back to within five points.
Obst hit his sixth three for Germany with seven minutes remaining in the fourth quarter but GB then prevented the visitors from scoring for almost four and a half minutes.
In the meantime, Nelson and Myles Hesson started the winning streak and threes from Ben Mockford and Nelson left Germany 11 points adrift with 25 seconds remaining as GB got a first win on the board.
"It's a day to be very proud of for Great Britain basketball," said GB captain Dan Clark, who was making his 104th appearance.
"We can build on this - it's a great momentum-builder. It's a very even group - if you look at the results, anyone can beat anyone.
"We all know the talent and potential that Luke has - we've been waiting for a game like this from him for a while now. We all know he's a great offensive player and little by little he's learned his role on this team and in professional basketball.
"Hopefully he'll build on that and become the spark we need."
The win was Marc Steutel's first as he stands in for head coach Nate Reinking, who had to remain with his NBA G-League team during the qualifying window.
"I think this will sink in after a few days - or so the guys say," he said.
"After the Montenegro game I've been preaching that I have total belief in the squad and even tonight at half-time, there was a feel about it - we were frustrated that we were leading by one point but we could have had more of a grip of the game.
"This gives us a push going forward into the November window."