London 2012: GB beach volleyball coach looking to build legacy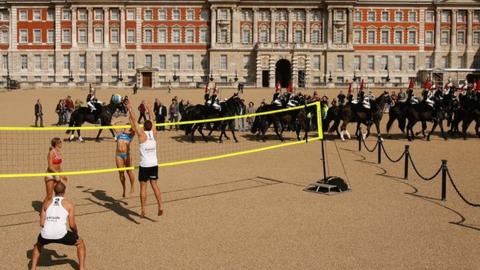 Great Britain beach volleyball coach Morph Bowes is hoping to use the London Olympics as a stepping stone to success at future Games.
Great Britain have competed in beach volleyball only once before, when a women's team took part in Atlanta 1996.
"We're really looking at Rio in 2016 or beyond to 2020," Bowes told BBC Sport.
"My hope for 2016 or 2020 is that Britain is really starting to emerge. Hopefully we will be producing the right athletes and seeing the results."
He added: "It's a platform. Volleyball is not really known in this country and we don't often get the chance to see world-class beach volleyball. We need that to try and change the perception, because it's a serious sport.
"It's a lot of hard work for us to develop a strong legacy for volleyball in Britain."
As the host nation, Team GB automatically has one spot in both the men's and women's competition.
A further place can be won if British teams perform well enough before the Games, with the women having the more realistic chance of winning a second berth in London.
GB teams Lucy Boulton and Denise Johns, and Zara Dampney and Shauna Mullin are looking to earn the extra spot, but if they fail the British representatives will be chosen by a selection panel.
Mullin and Dampney currently have the higher world ranking, however Boulton and Johns came fourth at the test event on Horse Guards Parade last summer.
"Hopefully it won't come to having to choose between the two teams," said Bowes, who is currently working with both pairs in Fuerteventura, Spain. "We'll do everything we can to get two teams in to try and avoid making that decision.
"The goal for the British Volleyball Federation is to get the best possible result at the Olympics and I know the girls believe in that as well, so if it does come down to one team going, it will be the team we believe can get the best result.
"In the long-term we need to look at the Olympics as an opportunity to develop the sport in this country and we can only do that with a solid performance in London."
While the women can prepare for the Games with the aid of money from UK Sport, the three men's teams - John Garcia-Thompson and Steven Grotowski, Jody Gooding and Gregg Weaver, and Robin Miedzybrodzki and Tom Lord - had their public funding cut in 2010.
"The men have had to be autonomous, find sponsorship and integrate jobs with their training," continued Bowes.
"We absolutely haven't been given enough funding, but I'm sure if you speak to the head coach of any sport in Britain then they will tell you the same thing.
"There will be a lot of pressure at a London Olympics for the home nation to provide results, so if you look at it from UK Sport's point of view then they will provide the funding to the sports best placed to provide that. That means sports like us that haven't got such a performance history can get funding cuts.
"Having said that, because of the work we've done and because we've started to engage more people in the sport, I can honestly see funding improving for 2016 and beyond."