BodyPositive: Mel Wells' Healthy Breakfast Ideas!
Last updated on .From the section BodyPositive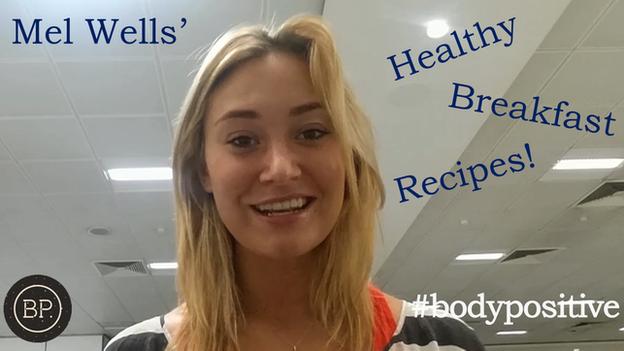 BodyPositive friend, author and food coach, Mel Wells, brings you these delicious and healthy breakfast recipes for all occasions.
On the Go

Are you the kind of person who savours every minute you get in bed on a cold winter morning? Well, if so, you probably end up rushing about like a headless chicken most mornings trying to get everything done, right?
Mel's Green Dream Smoothie is the perfect choice if you want a healthy boost of green goodness but still want to maximize duvet time! Simply blend all the ingredients and serve- now how quick and easy is that?
Weekend Treat

Who fancies a spot of dessert in the morning? Well it's not quite your standard banoffee pie, but Mel's super healthy breakfast version tastes just like the real thing, and will see you all the way through to lunch.
Make your porridge as normal by mixing your oats and almond milk in a large sauce pan and bring to the boil. Continue to stir to your desired consistency.
If you're new to almond milk, just add what you think looks right- you can always add some more if the porridge is too thick.
In a high speed blender, blend your almond butter, banana, water and dates to make your banoffee mix.
Pour your porridge into a big bowl and then stir in your banoffee mixture into the porridge and enjoy!
Super-Food Protein Boost

Avocados are all the rage right now- so it's time to see what all the fuss is about! This recipe is perfect if you're looking for a powerful protein boost to get you through the morning. It also works well as a pre-workout snack.
Get the oven on the go and pre-heat to 200 degrees celsius. Cut your avocado in half, get rid of the stone but keep the skin on.
Then get cracking your eggs! Crack them into the avocado holes and pop them onto a baking tray.
Cook in the oven for 10-15 minutes (the eggs should still be runny!) Finally, season by sprinkling the chives on, squeezing lime juice and adding sea salt and black pepper.
You'll feel that protein kick in no time!
Classic with a Twist

This sweet and juicy jam is an absolute must have to spread over your favourite bread, toast... or anything else that might take your fancy! The added secret ingredients of chia seeds, gives it a super-food boost of Omega-3 fatty acids which your heart will love you for!
It's important to soak chia seeds in water overnight.
Then simply blend the chia seeds, raspberries and honey, and voilà! Perfect homemade raspberry jam for all occasions.
Follow Mel on Twitter and Instagram for more simple healthy recipes.