BodyPositive: Poldark's Ruby Bentall thankful for her unique look
Last updated on .From the section BodyPositive
The BBC's production of Poldark might be most famous for its topless portrayal of the main protagonist, but one cast member says "perfect is boring" when it comes to body image.
Ruby Bentall plays Ross Poldark's cousin Verity. Despite a hugely successful career, including parts in Jekyll and Hide and Lost in Austen, Ruby says she's still told not to apply for certain roles because of the way she looks.
"Of course it can be hard when I'm told I can't go up for this job because I'm not pretty enough", she says
"I work in an industry obsessed with looks. Everyone's obsessed with looking identical, like weird clones".
Ruby acknowledges that her looks have been far from a hindrance in her career.
"I know if I looked like anyone else I'm pretty sure I wouldn't be doing the job I love."
"I am so thankful for my uniqueness. It's what gets me work. Of course I have days when I feel less than positive about myself and I'm horrible to myself but that's stupid".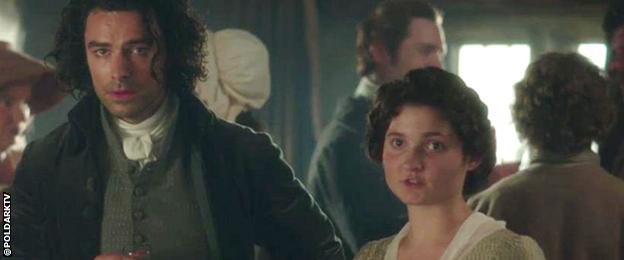 Acting runs in the family. Both Ruby's parents are in the profession. Her mum, Janine Duvitski, is known for her roles in One Foot in the Grave and Benidorm.
Now Ruby's part in Poldark adds the hottest drama on television to the family cv. Filming of series two is underway and will be shown on BBC1 later this year.
Her co-star Aidan Turner is famous for his shirtless scenes and Ruby thinks everyone should have the same confidence and pride in their own bodies.
"Every single body is different and beautiful and that's something we should start embracing and loving. I have this body for the rest of my life. I now just can't be bothered to worry about it all the time".
"I will never be perfect but no-one is. Even people who I think have the perfect body have hang ups. We have to realise this is all just pointless, this worry. It's exhausting".
What do you think? Get in touch with us using #bodypositive.