BodyPositive's Guide to #CharityTuesday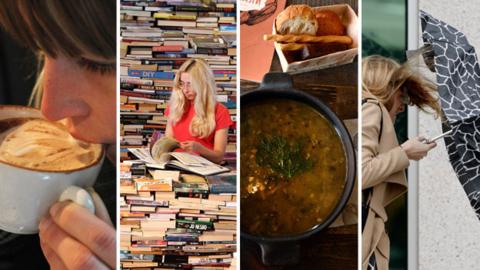 Want to show someone some kindness? Good news - today's the day!
To help you out, we've come up with some ideas on how you can bring a smile to someone's face - be it a friend, colleague, or even a stranger.
Share your tea tonight
Got a pal who's been brought down with the winter flu, or who's had a new baby? Try cooking extra food tonight and dropping it round - they're bound to appreciate a nutritious freshly cooked meal!
If you're stuck on what to cook, check out BBC Food's collection of one-pot recipes for something warming you can throw together and share easily.
Pay for parking
Spot someone struggling for change at the pay and display? Why not pay for their ticket - or better still, if you're not at a machine that needs you to put your number plate in, leave an extra ticket in the machine. After all, you never know who's coming next - and hopefully they'll pay their good luck on!
Share your brolly
Odds are it's raining where you are - so if you're standing at a bus stop, nice and cosy under your umbrella, think about anyone nearby you might be able to share it with. It's a small thing, and although getting cold might not cause a cold, staying nice and dry can help ease the symptoms. Find out out to ease a cold with NHS Choices - maybe you can think of some other way to help a friend feel better!
Write that review
Got a favourite restaurant? Why not give them a positive write-up - mentioning your favourite member of staff could help them get noticed by their boss, and if you share your review on social media you'll be helping other people find a new favourite place.
Lots of places also ask you to fill in a survey on how well your meal went - instead of throwing away that receipt, why not spend ten minutes giving them feedback? You really could make someone's day - again, some restaurants give staff rewards on the back of positive survey responses.
Suspended coffees
Did you know that some coffee shops will let you pay for an extra coffee, and then give it to the next needy person who comes in? A recent trend from Naples in Italy, this isn't just about keeping people hydrated - it's about giving someone a chance to sit down and take a break from the biting cold.
If you're not sure how to take part, check out the Suspended Coffees website to find a cafe near you - or just ask your favourite cafe's barista!
Clear out those old books
Okay, so this isn't until April - but right now you can still apply to help out at World Book Night on 23rd April. Volunteers will be giving out copies of some of the nation's favourite books for free, and it's not too late to ransack your book shelves and join in. And if you want to take part early, what better day to start clearing out those shelves than Random Acts of Kindness Day?
Ideas on how to give the gift of reading including leaving books in cafes, on the bus and at youth hostels/B&Bs - just remember to put a note inside saying the book's up for grabs, or it might end up in a lost property bin!
Want more ideas? Good news - Buzzfeed has 101 of them! Don't forget to let us know how you get on - see the links below for how to get in touch with us.