The week's eight best #bodypositive stories
Last updated on .From the section BodyPositive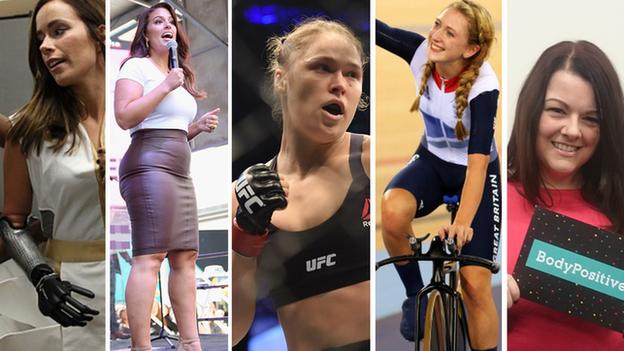 Wondering what's been going on this week? Wonder no more! Here at BodyPositive HQ we've scoured the web for the best BodyPositive gossip, so you don't need to miss a thing.
1. First up, it's London Fashion Week - but should we be okay with models as young as 14 slimming themselves "to the bone" in the name of fashion? An ex-model went on the Victoria Derbyshire programme to talk about her petition to ban under-18s from the catwalk.
2. We're hoping Fashion Week designers might take a leaf out of New York Fashion Week. Fox News reported that Rebekah Marine, known as "the bionic model" was joined by a fellow amputee on the catwalk - six year old Gianna Schiavone.
3. Plus-size model Ashley Graham has appeared on Sports Illustrated's 2016 Swimsuit Issue - and says we should embrace our jiggly thighs and cellulite. We couldn't agree more! E! Online spoke to her on the red carpet.
4. UFC fighter Ronda Rousey told The Ellen Show about her difficult recent MMA (Mixed Martial Arts) match with Holly Holm - her inspiring interview gives an amazing glimpse into what it's like to lose a match and come out fighting.
5. Is your health and fitness regime doing you more harm than good? An article from BBC Scotland about a teen who went too far in her pursuit of a perfect body has got us all talking here at BodyPositive.
6. We loved this very personal article about the struggles of body image and weight for African American women on For Harriet. Writer Jaimee A. Swift tells of her difficult journey on the path to self-acceptance.
7. Good news from Facebook - they've added a new suicide prevention feature they've worked on with help from The Samaritans. Newsbeat reports they're hoping to "interrupt [the] journey towards suicide."
8. Another question, this time for all the cyclists out there - are women being fairly represented in cycling media? Total Women's Cycling debates the issue in a summary of a lively panel debate - and they want to hear what you think.
And from us? Our favourite BodyPositive article from the last week has got to be Annika's story of how she's come to terms with her PCOS (Polycystic ovary syndrome) and learned to feel positive about herself again.
Found anything else you think we should know about? Email us at BodyPositive@bbc.co.uk - or get in touch via Facebook, Twitter or Instagram!