The week's eight best #bodypositive stories
Last updated on .From the section BodyPositive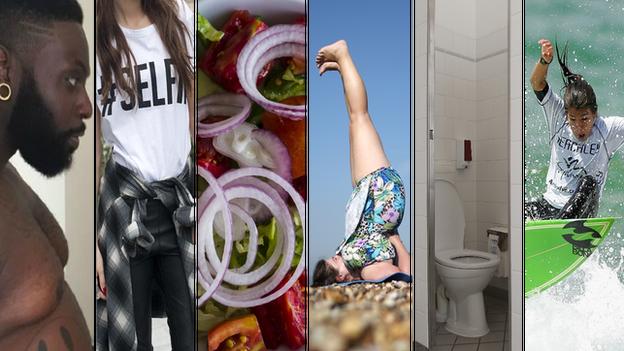 Wondering what's been going on this week? Wonder no more! Here at BodyPositive HQ we've scoured the web for the best BodyPositive gossip, so you don't need to miss a thing.
1. First up, we love this inspiring story from Buzzfeed about Dana Falsetti- a former binge-eater who has battled with her weight since she was 10 years old. Now, Dana is taking a stand and wow-ing her Instagram and Facebook followers with her bodypositive yoga poses. A definite 'you go girl!' story!
2. It's all the rage these days to take before and after 'fitness selfies'- in fact, your social media streams are probably jam-packed with them. But are they actually real? People.com investigates the rise of the hashtag #30SecondTransformation, which aims to uncover the truth behind the images, and the results are not what you expect...
3. It's something that most of us never have to think about, but for many transgender people the simple act of going to the loo can be a major source of anxiety. We were gripped by this thought-provoking TED Talk which discusses why we need gender neutral toilets in public places.
4. Some people choose to be vegan for health reasons, some for their beliefs and others simply to give their bodies a detox from meat and dairy. But how do you know if a vegan diet is right for you? This article from The Telegraph delves into the world of veganism and focuses on how to get the balance right.
5. She's been called lazy, weird, anti-social, boring....the list goes on. But comedian Sofie Hagen, like so many others, suffers from social anxiety. We love this very open and personal article from Sofie on BBC News about growing up with social anxiety and why she will only dine in restaurants with social-angst-approved five-star public toilets!
6. Good news from the science guys over at Lifehack! If you're feeling down and depressed, suffer from anxiety or even low energy, moderate exercise can relieve feelings of tension and pressure by giving you a healthy release of endorphins. Follow their simple guidelines and you'll be feeling bodypositive in no time!
7. Here at BodyPositive we love a powerful story about overcoming the odds. BBC Magazine met Brazilian surfer Silvana Lima, who wasn't considered pretty enough to get full sponsorship for the first 13 years of her career. Find out how Silvana refused to let that stop her from reaching the uppermost limits of her sport.
8. And finally, could you eat 8,000 calories a day? That's what one personal trainer did every day for four months! BBC 5 Live caught up with trainer Adonis Hill, who gained nearly five stone to help his client lose weight. Talk about being dedicated to your work!
And from us? Our favourite bodypositive video this week comes from our amazing trans woman Evie. In the first of a series of video diaries, Evie opens up about being too nervous to leave the house because she was worried other people were judging her - but through telling her story, she's become a strong, confident woman who is proud of being trans!
Found anything else you think we should know about? Email us at BodyPositive@bbc.co.uk - or get in touch via Facebook, Twitter or Instagram!