The week's eight best #bodypositive stories
Last updated on .From the section BodyPositive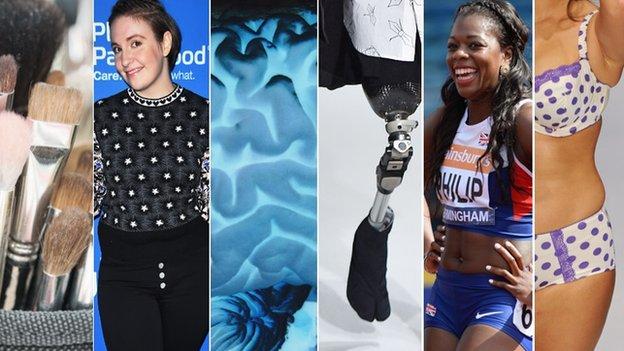 Wondering what's been going on this week? Wonder no more! Here at BodyPositive HQ we've scoured the web for the best BodyPositive gossip, so you don't need to miss a thing.
1. Firstly, we loved this inspiring story about model Stacy Paris who lost both legs to a flesh-eating bug four years ago. She told People Magazine how the experience has actually boosted her body confidence - and now she advocates for diverse representation in the fashion industry.
2. Are plus size models unhealthy? Recent controversies might have you questioning the lifestyles of women over a certain size but Fox News Health have looked at the facts and says no, they're not.
3. Love a bit of UK Grime? Then you're in good company. Newsbeat reports that sprinter Asha Philip is hoping it'll get her to gold in Rio this year - good luck Asha! We'll be listening to Chipmunk in your honour next time we beat the streets.
4. Would you donate your brain to medical science? American women's football star Brandi Chastain would and has. USA Today tells how she's particularly interested to know whether all of those headers will have affected her bonce. Let's hope it's a long time before we get to find out!
5. We love Lena Dunham here at BodyPositive, because she loves being real - so when she thought El Pais had photoshopped her on their cover, she wasn't happy. Newsbeat reports that she's said she has "a long and complicated history with retouching."
6. Nobody should have to defend their body to a stranger, but eleven days after giving birth?! Giovanna Fletcher's response to shocking body-shaming has justifiably gone viral on Facebook.
7. A touching story from BBC News about two twins with cerebal palsy really touched our hearts this week. One twin was able to have pioneering surgery to help her walk from the NHS, but the other wasn't - so the internet came to the rescue.
8. Our favourite story has to be this one from Cosmopolitan about YouTube beauty blogger Shalom Blac, who suffered severe burns to her face as a child. She uses makeup to dramatically transform her looks - but she loves herself equally with and without makeup.
And from us? It's absolutely got to be our interview with the amazing Kaner Flex. He spoke to us about how having autism has made him an amazing dancer.
Found anything else you think we should know about? Email us at BodyPositive@bbc.co.uk - or get in touch via Facebook, Twitter or Instagram!