The week's eight best #bodypositive stories
Last updated on .From the section BodyPositive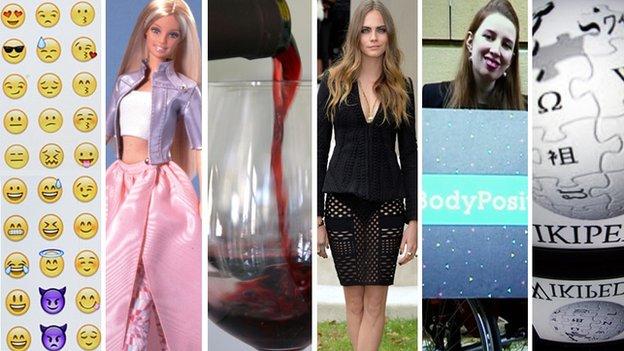 Wondering what's been going on this week? Wonder no more! Here at BodyPositive HQ we've scoured the web for the best BodyPositive gossip, so you don't need to miss a thing.
1. First off, it has been an historic week for transgender models and, this time, for all the right reasons! Cue, Ben Melzer, who was voted to become the first transgender model to feature on the front of a fitness magazine. And wow, what an impact he's had on social media! See Ben in all his glory here.
2. Hands up if you're an emoji-a-holic... *puts up hand*! Most of us don't think twice about adding the cute little princess or the well dressed flamenco dancer to our text messages. But what if we took a second to think about our most-loved little pics and what they tell us about society? This witty article from the New York Times does just that, and might just make you think next time you add a row of love hearts to your next text message!
3. To be a fashion model and strut your stuff down the catwalk you have to be pretty bodypositive, right? Well that's not always the case. When it all became too much for Cara Delevingne, she suddenly quit the business after four years and turned her hand to acting. Find out the real reason why she stopped modelling in this article from Cosmopolitan.
4. Ever thought you're too fat to do yoga? Or that you can't get away with wearing skin-tight gym wear? Jessamyn Stanley used to have a "horrifying self-image". Through yoga, she has gradually built a positive relationship with her body and has become famous on Instagram for her amazing bodypositive poses. After reading her interview on MTV news we bet you'll be motivated to give yoga a try, whatever your shape, size or ability!
5. Losing both your legs to a flesh-eating bug sounds like something from a horror movie. But when faced with becoming a double- amputee, Stacy Paris saw this as a new opportunity in her life and thought: "you know what? I'm going to become a model!" We were overwhelmed by Stay's bodypositive journey featured in People.
6. When we think of Barbie we think blonde, leggy and incredibly skinny- far from the average British woman's body type. But the childhood doll most of us grew up with has had a bodypositive makeover! Curvy, tall and petite dolls are now available and they come in different skin tones too. But, makeover complete, do they actually represent the average British woman? The BBC Magazine see how the new dolls measure up (literally!)
7. What if you made a pledge to do something positive anytime someone tried to put you down? Well that's exactly what microbiology student, Emily Temple-Wood is doing. She combats online harassment by adding a woman scientist to Wikipedia every time she faces abuse online. Talk about turning a negative into a positive!
8. And finally, if you're partial to the odd glass (or two) of red wine then, like us, you will rejoice at the results of a recent scientific study. The research has confirmed a glass of red contains a "natural compound" which provides the same benefits as an hour's gym workout! *Insert caveat here* Obviously there are limits to this wonderful news, so make sure you read the whole article before you forego exercise and devour a bottle of the red stuff tonight!
And from us? It's absolutely got to be our #ThisIsMe story from the amazing Jessica. She spoke to us about how living with Ehlers-Danlos Syndrome & POTS doesn't stop her from feeling bodypositive!
Found anything else you think we should know about? Email us at BodyPositive@bbc.co.uk - or get in touch via Facebook, Twitter or Instagram!