The week's eight best #bodypositive stories
Last updated on .From the section BodyPositive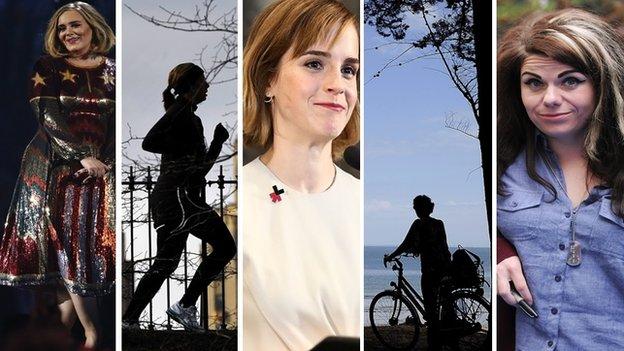 Wondering what's been going on this week? Wonder no more! Here at BodyPositive HQ we've scoured the web for the best BodyPositive gossip, so you don't need to miss a thing.
1. Adele has the best sense of humour ever and this story from MTV just shows us why we just want her to be our BFF. She's now twerking as part of her on stage routine!
2. Cycling feminists take back the streets of LA at night, when it's not considered safe for women to go out. A new documentary is going to be shown at South by South West film festival in Texas this year - read more from BBC Culture.
3. Scientists have developed the technology to make a bra that can detect breast cancer. Find out more about this amazing new tech in Glamour.
4. BBC World News reports Shocking pictures from China on social media have been showing young women who are quite literally paper thin. However, there's been a bit of a backlash to the rather controversial #A4waist trend!
5. BuzzFeed reports on a ground-breaking online documentary on what it's like to be a trans woman in Russia. There's history of poor rights for LGBTQ communities in Russia so this caught the internet's attention.
6. After reading a powerful moving open letter to young women with body issues from Caitlin Moran in Stylist, we can't help thinking she really is speaking to us directly. Thanks Caitlin - we salute you!
7. Bit bored of the running the same route? Here are five bodypositive ideas from the Evening Standard to put the fun back into run!
8. Is this the best beat-boxing we have heard in a long time? No, it's not, but it's amazing to see how Emma Watson is willing to try and have a go! Newsbeat has the scoop.
And from us? If you've not yet watched the amazing Jessica talking about living with Ehlers-Danlos Syndrome & POTS, you've definitely missed out. Catch up with her incredible #ThisisMe story now!
Found anything else you think we should know about? Email us at BodyPositive@bbc.co.uk - or get in touch via Facebook, Twitter or Instagram!