BodyPositive's Top Eight
Last updated on .From the section BodyPositive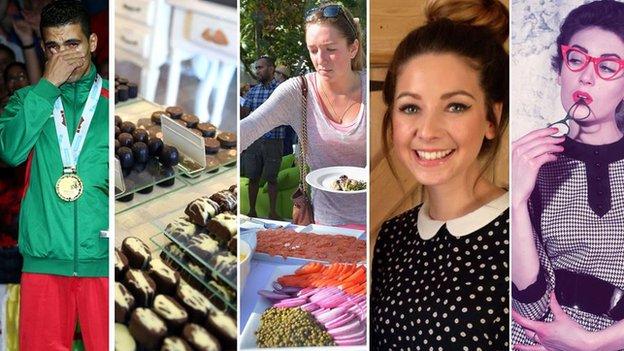 Wondering what's been going on this week? Wonder no more! Here at BodyPositive HQ we've scoured the web for the best BodyPositive gossip, so you don't need to miss a thing.
1. The internet was set alight when Zoella said goodnight to her followers in her undies and was promptly body-shamed by many of her own fans. BBC Newsbeat reports on how she reacted - here at BodyPositive HQ we #WeStandWithZoe.
2. Have you been over thinking everything recently? Worrying about conversations that haven't happened yet? Thanks to this great article from Glamour you can stop over thinking and just be.
3. Spending a penny might be a gender-neutral experience soon. The Guardian has highlighted one American college which has stripped the gendered signs off toilet doors. Well, we all have to go, don't we?!
4. Cosmo highlighted that skipping breakfast makes you gain weight. In fact even a second breakfast is better than missing out all together. Pass the second bowl of porridge?
5. The Huffington Post discusses how gender stereotypes have meant that many women have not received the diagnosis of Autism and help they need.
6. Crying is often seen as a weakness in both women and men, but Lifehack explains it's actually a sign that you are mentally strong.
7. Thank you to The Independent for highlighting the bodypositive movement that is both male and female. Read about how Europe and America are taking the lead in the booming industry of plus size models.
8. And here is one we are savouring here at BodyPositive as we munch our way through the left over Easter eggs - BBC iWonder asks whether chocolate can make you happy, healthy and wise.
And from us? Our BodyPositive video of the week - meet Dakota Ditcheva - 17 years old and a professional Muay Thai Athlete.
Found anything else you think we should know about? Email us at BodyPositive@bbc.co.uk - or get in touch via Facebook, Twitter or Instagram!