The week's eight best #bodypositive stories
Last updated on .From the section BodyPositive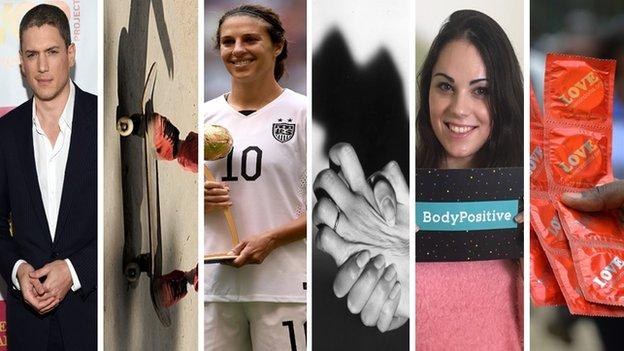 Wondering what's been going on this week? Wonder no more! Here at BodyPositive HQ we've scoured the web for the best BodyPositive gossip, so you don't need to miss a thing.
1. BBC News reported on five of the USA's best female footballers filing a wage discrimination lawsuit against their governing body. Acting on behalf of all players, 2015 World Cup winner Carli Lloyd said they'd been patient in waiting for the federation to "do the right thing".
2. Lad Bible were forced to apologise to American TV Star Wentworth Miller after they released an internet meme that poked fun at his weight. The picture was from 2010 and Miller, who looks like a normal person instead of muscle (and tattoo) clad Michael Scofield in Prison Break, rightly called them out for it on Facebook as he opened up about his struggle with depression.
3. The Wireless in New Zealand spoke to a bunch of people about what they wish they'd learnt in sex education. As British schools try to work out how best to teach consent and being in control of your sexuality, it's good to know on the other side of the world they also think that putting condoms on items from the vegetable aisle is pretty pointless.
4. Buzzfeed showed us how simple it is to help if you know someone with anxiety. It's as easy as showing that you care, listening and letting them know that you're around when they need you.
5. Learning a new skill is the best, even better when you do it in front of your squad, as this girl found out on a skateboard ramp. ESPN W posted this awesome video of a tutu-clad grommet putting down a sweet trick on a skate ramp followed by wild celebrations with her crew.
6. From shanty town to millionaire - BBC News had this story about Zica Assis who ditched the hair straighteners and developed her own product to get the look she wanted. Turns out she wasn't the only Brazilian woman who was committed to the curly hair cause, and in 2013 Forbes named her one of the 10 most powerful businesswomen in Brazil.
7. Have a look at South African photographer Justin Dingwall's portrait series Albus on the BBC website. In Africa people born with albinism are faced with negative attitudes, discrimination and violence, but Dingwall challenges that perspective with his photos.
8. Body Positive contributor Evie Andrew wrote this great, and very witty, list for Cosmopolitan about dating a trans girl. Great advice and also great quotes like "We've passed 2015, so it's officially the future now (ask Michael J Fox!)". To sum it up, it's simple, she's a girl, end of story.
And from us? Our BodyPositive article of the week was when Liberty X member Michelle Heaton told us about her struggle with the BRCA2 gene, and how major surgery affected her body image.
Found anything else you think we should know about? Email us at BodyPositive@bbc.co.uk - or get in touch via Facebook, Twitter or Instagram!