The week's eight best #bodypositive stories
Last updated on .From the section BodyPositive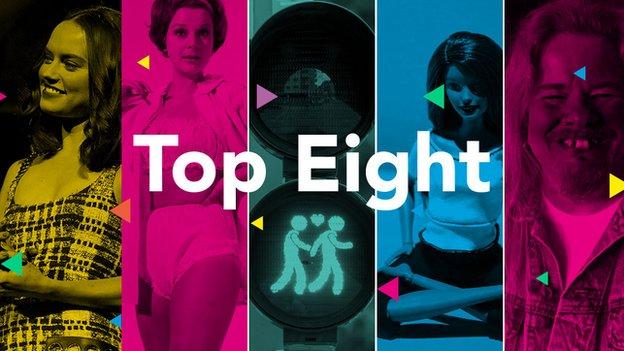 Wondering what's been going on this week? Wonder no more! Here at BodyPositive HQ we've scoured the web for the best BodyPositive gossip, so you don't need to miss a thing.
1. Daisy Ridley, everyone's new girl crush,put up a post on Instagram talking about the pressure of being perfect on social media. Ridley is currently filming the next Star Wars film, and has been vocal about body image and being true to yourself - whatever you see in the mirror.
2. Juno Dawson is transitioning from male to female and has been documenting her journey with a column in Glamour Magazine. This week she explored how much hair plays a part in assigning gender, as she embraced a head of extensions, and consequently looking a lot like her sister.
3. Pants! We all wear them, but they've changed through the years as different styles and body shapes have come in and out of fashion. The Victoria and Albert Museum is currently holding an exhibition about our undergarments, from Victorian enthusiasm for jock straps to a latex corset and knickers.
4. YouTuber Amy Geliebter wanted to explain depression, and what life is like for people who live with mental illness, but she wanted to do it in a way that everyone would understand. Cue the make up video tutorial format and lipstick in a shade of "Just Smile More", and Geliebter has explained depression in a totally relatable way.
5. So your friend has come out and told you they're bisexual. If you're not sure what that means for them, then have a look at this video. The Huffington Post asked three empowered bisexual ladies all the questions you might be scared to ask, and cleared up any confusion about what it means to love both men and women.
6. Is your downward dog looking a little more bumbling Bassett Hound than graceful Greyhound? If you've been comparing yourself to celebrities on Instagram, this set of posts from Celeste Barber will remind you just how impossible it is to curate your life like a celebrity. Barber shows it like it is, and also has a cracking pair of polka dot pyjamas.
7. Imagine being 12, getting your first period - and growing a beard. That happened to Alec Butler, who is intersex. Intersex people are neither entirely male nor female. It's led Alec on a journey of discovery - not only about who they are as a person, but also in terms of their heritage as an Aboriginal Canadian.
8. Actress Paige Billiot wants to encourage everyone to love their flaws - that's why she's showing off her birthmark in a series of photo shoots. She was born with a vascular birthmark on her face, and was bullied as a child over it, but now wears it with pride. Billiot's aim is for the project to change the way people think when they hear the word "flawless".
And from us? We spoke to paralympian Jade Jones about her hectic life balancing college and training for the London Marathon. And on a lighter note, let's not forget it was the Queen's birthday! Here's some of our favourite things about her.
Found anything else you think we should know about? Email us at BodyPositive@bbc.co.uk - or get in touch via Facebook, Twitter or Instagram!