The week's eight best #bodypositive stories
Last updated on .From the section BodyPositive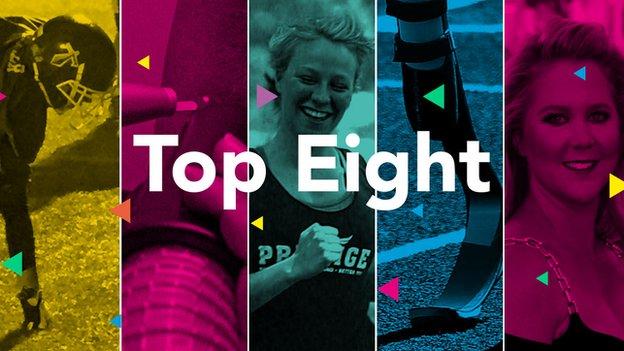 Wondering what's been going on this week? Wonder no more! Here at BodyPositive HQ we've scoured the web for the best BodyPositive gossip, so you don't need to miss a thing.
1. Stylist reports that double amputee Jami Goldman Marseilles wants to become the first female double amputee to finish the Boston Marathon. Inspired by the Atlanta Paralympics in 1996, she wants to 'pay it forward' for the victims of the 2013 Boston Marathon bombings.
2. Tass Cambitzi has had 18 tattoos but is now going through the painful process of having them removed. Each of them represents different times in her life; love, loss and some personal struggles. She told the BBC the story of why she doesn't need them anymore.
3. Chloe Madeley works hard for her six pack. The daughter of Richard and Judy got herself in shape and as a qualified personal coach, uses her social media channels to show people she knows her stuff. Metro tells how Madeley put up a picture and was branded unfeminine by trolls. Her response? That no one should be able to dictate "what women should, or shouldn't look like".
4. What do a trans activist, a Thai boxing champion and designer of a hijab activewear collection have in common? They all star in a video made by the department store Selfridges, stripping down to their unmentionables and telling us what their bodies mean to them. It's incredibly empowering to hear how these women's use their own "incredible machines" every day. The Huffington Post has more.
5. Miss SaHHara is a transgender woman from Nigeria, who felt so much pressure from her family and traditional society that she tried to kill herself twice. With what looks like a killer collection of heels, she spoke to the BBC about how people thought it was a phase.
6. Borderline Personality Disorder (BPD) is a mental illness that is far less talked about that Bipolar Disorder. Describing it as living without an "emotional skin" this piece by Charlotte Dingle for Cosmopolitan explains what you shouldn't say to someone with BPD and why casual comments can cause far more harm than you're aware of.
7. It's 'The Oscars of Fashion' so it was awesome to read in the Mirror about BodyPositive fave Amy Schumer keeping it real at the Met Gala and putting some deodorant between her thighs. She slayed the red carpet in her Alexander Wang dress, and thanks to her preparation, didn't need to worry about 'chub rub' as she commandeered a tray from the buffet. Hey, if the models aren't going to eat the food, don't let it go to waste.
8. What is it like to love someone who is asexual? Are the notions of sex and romance completely separate? This piece by the BBC as part of its identity season explores sexuality, and as Sophie, one of the subjects says, the fact that it is "fluid and diverse".
And from us? This week we're all about American football - and how Charlie Novak from the Manchester Titans found a love of sport through supporting a mate.
Found anything else you think we should know about? Email us at BodyPositive@bbc.co.uk - or get in touch via Facebook, Twitter or Instagram!