The week's eight best #bodypositive stories
Last updated on .From the section BodyPositive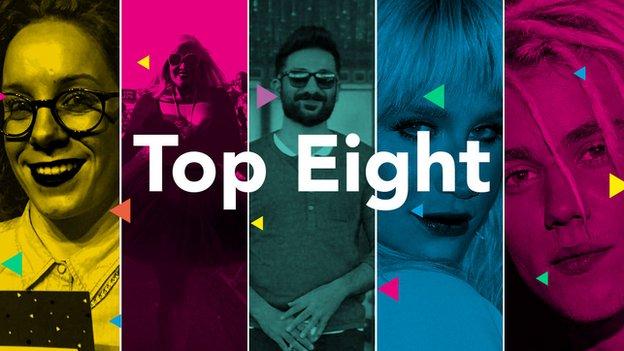 Wondering what's been going on this week? Wonder no more! Here at BodyPositive HQ we've scoured the web for the best BodyPositive gossip, so you don't need to miss a thing.
1. A Pakistani lawyer and social activist is taking a stand against body shaming in her home country. Zainab Chughtai and a group of women recently shared their experiences in a video, which then went viral and was flooded with touching responses. BBC News met the young women in Lahore to discuss why they made this incredible, bold statement.
2. Despite her ongoing legal battle, Kesha says she's in a good place at last. In an open Instagram post, the singer told fans she's ready to reclaim her life and also revealed that she has been "battling depression and an eating disorder for a while." She also gave her critics a piece of her mind, saying: "If you wanna hate on my body, just remember that makes you look [stupid]." That's a statement we can get on board with, Kesha.
3. It's Mental Health Awareness Week and award-winning comedian Felicity Ward has shared five things about anxiety and depression that you probably didn't know (or did). Her piece in The Metro talks about the effects of mental illness such as losing both memory and control of your bladder, in her typically light hearted tone.
4. "Anxiety is nothing to brush off." YouTube star Louise Pentland, aka Sprinkle of Glitter, tells Glamour about her experience of one of the UK's most common mental health issues. After a terrifying panic attack and phone call to pal Zoë Sugg (Zoella), the fashion vlogger sought out counselling, which has changed her life.
5. Would you know how to support a friend with anxiety disorder? Times are a-changing and we're talking about it more. Lena Dunham, Emma Stone and Jennifer Lawrence have all been open about their struggles with anxiety. The Stylist shares tips on how you can support a loved one by encouraging, empathising and not taking it personally.
6. Indian comedian and Bollywood actor Vir Das called out every sexist commercial you've ever seen. Mashable brought our attention to the deodorant ad, which rips apart the objectification of women. Think suggestive images of bare legs in a bathtub or an actress squeezing a juicy mango.
7. Four regular guys have recreated famous photos of male celebrities, including that Justin Bieber underwear ad and even an ode to Channing Tatum as Magic Mike. There's ab contouring and a lot of Photoshopping, so it turns out that effortless look is not so effortless. The video is part of BuzzFeed's Body Positivity Week and highlights how guys struggle with body image and have insecurities too.
8. Emma Watson and JK Rowling are campaigning for a suffragette statue to be erected in London. They have joined a host of high profile women in an open letter to the city's new mayor Sadiq Khan. Not a single one of the statues in Parliament Square is of a woman. Isn't it about time?
And from us? This week, we interviewed the amazing, hilarious comedian Suzi Ruffell about what it's like to put yourself out there on stage - and how she deals with hecklers who shout out that they can "fix" her when she reveals that she's a lesbian. Suzi, we salute you!
Found anything else you think we should know about? Email us at BodyPositive@bbc.co.uk - or get in touch via Facebook, Twitter or Instagram!