The week's eight best #bodypositive stories
Last updated on .From the section BodyPositive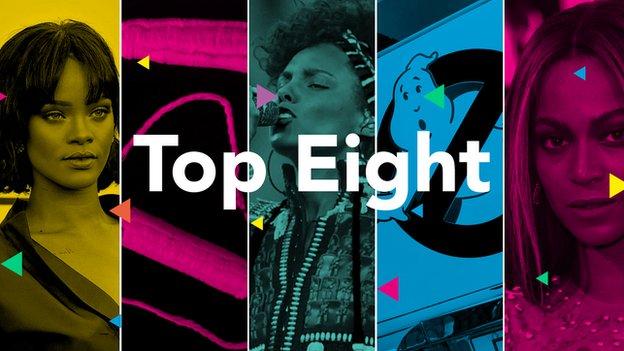 Wondering what's been going on this week? Wonder no more! Here at BodyPositive HQ we've scoured the web for the best BodyPositive gossip, so you don't need to miss a thing.
1. It was Menstrual Hygiene Day on Saturday, but the stigma surrounding periods is still in full flow. A story from charity WaterAid featured on The Stylist shares the experiences of seven teenage girls in Nepal, where periods are considered 'impure' meaning they are kept from enjoying normal life like eating with their families or drinking milk. "When we are not touched and kept separately, I feel hated," says one 14-year-old.
2. When one sneezes on one's period. Yup that. Relate? WaterAid has also put together this totally relatable YouTube video of awkward period dramas, using clips from - yep you guessed it - period dramas. Number four had us at BodyPositive HQ nodding profusely in agreement.
3. An ad from clothing brand Jack Wills has been banned by an industry watchdog. Newsbeat reports that the ad featured images of male and female models in their underwear, portrayed as drinking and dancing on a bed with the tagline: "Midnight mischief". The ad watchdog said it was "sexually aggressive".
4. Do you apologise too much? Lena Dunham thinks we do. In an essay about a song from Beyonce's much talked about Lemonade album, she says: "Apologizing is a modern plague and I'd be willing to bet (though I have zero scientific research to back this up) that many women utter 'I'm sorry' more on a given day." Sorry, not sorry. More on HelloGiggles.
5. "Why do lots of Ghostbusters fans already hate the new movie?" asks Newsbeat. The trailer for the remake starring Kristen Wiig is the most disliked trailer on YouTube of all time. It stars an all-female cast and fans have been accused of gender bias. Will you be watching when it's released?
6. A student has shared how Rihanna's music videos helped her on her body positive journey. In the piece on Bustle, she describes 'What's My Name' as being the first of RiRi's videos, which affected her positively at a time when she had a "weight loss obsession" and was insecure about her "wider and jiggly thighs". Empowering stuff!
7. Who loves short shorts? Not JetBlue. The airline forced a passenger to change her shorts because they were "too short". Burlesque dancer Maggie McMuffin could only board the flight if she changed into something with "proper coverage". Wow. We think her shorts, shown on Cosmopolitan, are just fine! Major side eye over here.
8. Alicia Keys has shared the insecurities she has faced in the entertainment industry - and the moment that she embraced her "totally raw" self. In Lenny Letter, the singer writes about how she's tired of stereotypes that make women feel like "being a normal size is not normal" and "heaven forbid if you're plus-size". We love you in your raw self Alicia!
And from us? In our Q&A, One Direction drummer Josh Devine talks about staying healthy and body positive when touring with the band. Plus how a certain item of clothing gets him strange looks. Check it out!
Found anything else you think we should know about? Email us at BodyPositive@bbc.co.uk - or get in touch via Facebook, Twitter or Instagram!