The week's eight best #bodypositive stories
Last updated on .From the section BodyPositive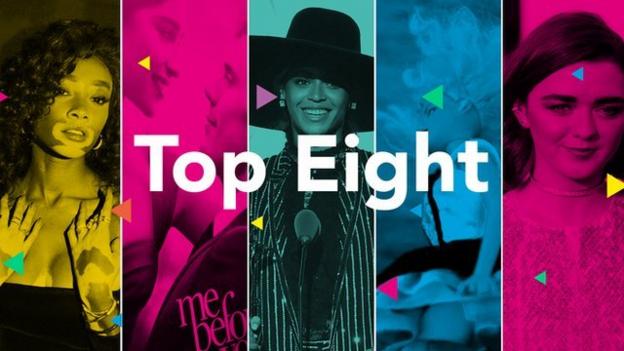 Wondering what's been going on this week? Wonder no more! Here at BodyPositive HQ we've scoured the web for the best BodyPositive gossip, so you don't need to miss a thing.
1. Beyonce beautifully addressed class, race, body image and representation in the fashion industry at the CFDA Awards. In her emotional Style Icon Award acceptance speech, she reflected on the early days of Destiny's Child when high-end labels "didn't really want to dress four, black, country, curvy girls." Bey reduced her mother - and BP HQ - to tears and you'll want to read the full speech over at Vogue to see why.
2. Author Jojo Moyes responded to controversy over Me Before You. The film adaptation, starring Emilia Clarke (of Game of Thrones fame), tells the story of a quadriplegic who goes down the path of assisted suicide. Disability rights campaigners staged a protest at the film's premiere criticising the story for its negative portrayal of disability. "I'm never afraid of shying away from more difficult topics," says Moyes in her video chat with The Stylist.
3. Maisie Williams rewrote a sexist headline about herself, and her fans thought it was class. The Mailonline article in question was about Maisie attending the NSPCC's Summer Masquerade Ball and reported that she appeared to be "braless in sheer lace dress". Maisie tweeted a screenshot with her own alternative headline: "Game of Thrones actor, Maisie Williams, helps raise thousands at a Summer Masquerade Ball for @NSPCC." Bras and not brains? You know nothing, Daily Mail. Full story on Cosmopolitan.
4. You'll feel warm and fuzzy inside when you see this girl's reaction to getting a doll with a prosthetic leg. Ten-year-old Emma has a prosthetic leg, and when her family surprised her with a doll she could relate she was completely overwhelmed. New York-based prosthetics company A Step Ahead Prosthetics told BuzzFeed News that they will "customize a doll with prosthetics at no charge to anyone who wants to send one."
5. A Miss USA finalist has opened up about her body image struggles. Nadia Grace Mejia had anorexia and explained that despite recovering, it's something she still battles with every day. The model was recently crowned as Miss California, and "while the beauty queen was all smiles on stage," says HelloGiggles, "her interview package revealed her past struggles".
6. Modern Family star Ariel Winter took to Instagram to share a powerful message about sexist school dress codes. The post against "distraction free learning" has had over 40k likes and makes a bold statement: "instead of shaming girls for their bodies, teach boys that girls are not sexual objects."
7. Every time Kesha gets trolled, she doesn't fail to disappoint her fans with an epic comeback. One Instagram user took it upon himself to tell the singer she was ugly and in return Kesha gifted him - and the whole internet - with a bum pic and message that included: "My body is not your business. In conclusion, kiss my magical imperfect…" Read the whole response over on The Cut.
8. In the summer issue of Wonderland magazine, model Winnie Harlow talks about featuring in Beyonce's Lemonade and how she doesn't want her skin condition vitiligo to define her.
And from us? Chris Fonseca is an amazing dancer, dance teacher, and a choreographer - and he's profoundly deaf. This guy can throw some shapes and we've captured them in an inspiring video. Be amazed as he feels the beat of a Missy Elliot track in style.
Found anything else you think we should know about? Email us at BodyPositive@bbc.co.uk - or get in touch via Facebook, Twitter or Instagram!