Margaret Letham leads Scots to fours gold at World Bowls
Last updated on .From the section Bowls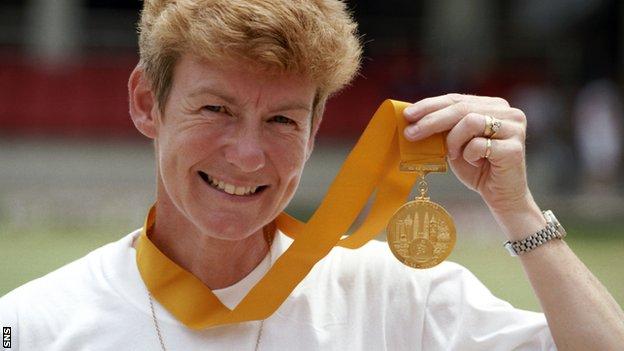 Scotland have won gold in the women's fours at the World Bowls Championships taking place in Adelaide.
The team of Margaret Letham, Caroline Brown, Lynn Stein and Michelle Cooper beat Malaysia 18-15.
It follows the gold won by Paul Foster and Alex Marshall in the men's pairs and the Scots are now second in the medal table behind hosts Australia.
The Scots are guaranteed another medal on Saturday, when the men's triples team play Australia in the final.
Graeme Archer, Darren Burnett and David Peacock beat the Irish trio of Paul Daly, James Talbot and Neil Booth in their semi-final.
The Scots will face Brett Wilkie, Wayne Ruediger and Mark Casey after the Australians' win over New Zealand's Tony Grantham, Matt Gallop and Ali Forsyth.
Wilkie, Ruediger and Casey are looking to complete a title double after securing the men's fours title along with Aron Sherriff, beating South Africa in the final.
Bowls Scotland chief executive Alan McMillan told BBC Scotland; "It is a tough game for us, there's no doubt about that.
"But, with Paul and Alex having beaten Australia's Leif Selby and Aaron Sherriff in their final, it should give our guys confidence that they can overcome the Australians on their home patch.
"It is a massive achievement for the ladies. They have performed consistently, but the men tend to get all the publicity.
"So this is fantastic for women's bowls in Scotland as it shows we can compete with the best in the world."
Playing Malaysia proved to be a lucky omen for skip Letham.
The women's fours success - the Scots defeating the foursome of Auni Fathiah Kamis, Noor Zafirah Nor, Zuraini Khalid and Azlina Arshad - was Letham's second career gold.
Scotland's skip, who plays at Burnbank, Hamilton, also won gold in the pairs along with Joyce Lindores at the 1998 Commonwealth Games in Kuala Lumpur.
The win in Australia was the first world success for Brown, of Bellshill and Mossend, Stein of Methil and Cooper of Blacklands, Kilwinning.