Natalie Melmore pleased with World Championships bronze
By Brent Pilnick
BBC South West Sport
Last updated on .From the section Bowls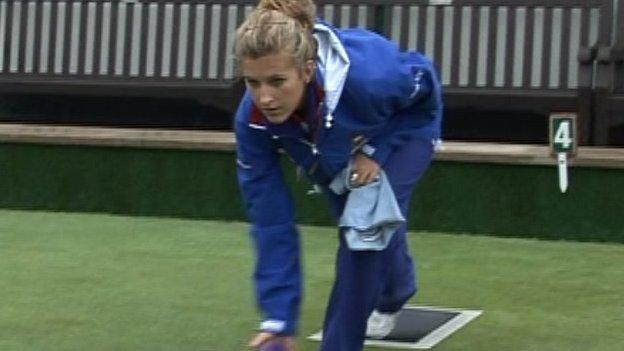 England bowler Natalie Melmore says she is happy to have won a bronze medal at the World Championships in Australia.
"I'm disappointed with my game overall as I felt I could have played better, but I'm really happy to come away with bronze," she told BBC South West Sport.
"To come away with anything from this competition is great."
Melmore had topped her group at the championships in Adelaide, but some loose shots in the middle of the match cost her a place in the final.
"Against someone like Karen you can't really afford to do that, she's a world class player and if I had a bad end she'd have a good one," she added.
"She pulled away from me, it got to 20-13 and I pulled a few back, but it was only a matter of time before she got that one to finish me off.
"After my success at the Commonwealth Games it would have been great to get to that final."
Melmore has previously for Great Britain's international competitiors, and says other nations with better funding are starting to come to the fore.
"The competition was very strong and a lot of the smaller countries have funding and are paid to play full time," she said.
"So some of the countries that wouldn't have been contesting in the past are knocking at the door like the Philippines and the USA."