World Bowls gold for David Peacock, Darren Burnett and Graeme Archer
Last updated on .From the section Bowls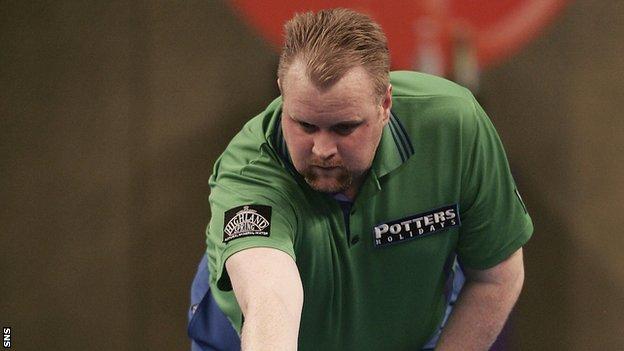 Scotland's bowlers have won a third gold medal at the World Championships in Adelaide.
David Peacock, Darren Burnett and Graeme Archer triumphed in the men's triples with a 13-12 win over Australia.
On the penultimate day of the competition, the result puts them second overall in the medals table with three gold and three bronze.
This victory also means it is Peacock's third successive triples world title.
"It's always been my ambition to win a world title," said Archer.
"To come to here, play against Australia and win is pretty special.
"I'm delighted for myself and the whole Scotland team, we've had a phenomenal tournament."
On Thursday, Paul Foster and Alex Marshall won the pairs, again defeating hosts Australia.
That meant they became the first duo to hold the indoor and outdoor titles in the same year, having already won the PBA indoor pairs championship.
Then, on Friday, Scotland's Michelle Cooper, Lynn Stein, Caroline Brown and Margaret Letham secured the women's fours crown after beating Malaysia in the final.
In the men's triple final, Peacock, Burnett and Archer beat an Australian trio of Wayne Ruediger, Brett Wilkie and Mark Casey.
Despite Australia only scoring on five of the fifteen ends, the result still came down to the wire, with the Scottish team winning by the narrowest of margins.
Archer smashed the jack into the ditch on the final end and Casey's final bullet ended millimetres short.