World Indoor Bowls: Shot clock will add 'excitement'
Last updated on .From the section Bowls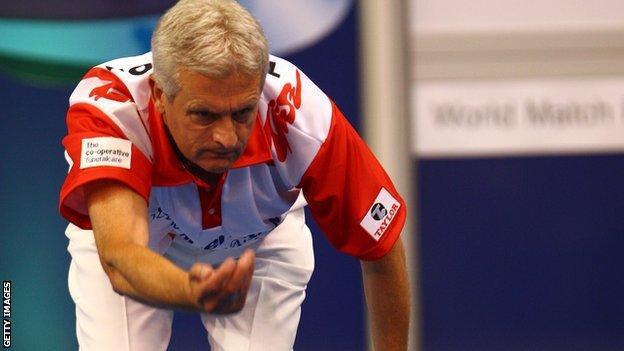 The head of the World Bowls Tour believes the introduction of a shot clock at the World Indoor Championships will add an "edge" to the competition.
Players will have 30 seconds to make a shot before the hooter sounds and their bowl is removed.
"I thought this could be brought into the UK game to add some excitement and tension," WBT chief executive Richard Maddison told BBC Radio Norfolk.
The tournament starts on Friday in Great Yarmouth.
The shot clock has been used in Australia and was trialled at the Scotland International Open in November, but will make its debut at Potters Leisure Resort this year.
"It certainly proved to be exciting when we trialled it in Scotland where [former world champion] Greg Harlow heard the hooter twice," added Maddison.
"Audiences felt it added a real edge. There were a few players who felt there was a strain added to them. In time this will become just part of the match.
"The majority of players are pretty quick anyway. You will see players hesitating when it comes to the fourth bowl of each end.
"Some of the slower players will still be getting used to it. We think it will give the game a really good dimension."
The move is aimed at speeding up the game and making it more appealing to television audiences.
In recent years televised events, such as the World Indoor Championships, have used a two-set system, with nine ends per set, as opposed to the traditional first to 21 points format (21-up), in order to quicken the pace of the game
Maddison said: "We hear all the time, 'why is there not more bowls on television?'. I still believe that the grassroots 21-up format is a really good game. But 21-up can last two or three hours.
"There's not a TV company in this world that will take on a three-hour match.
"The skill level is still the same, it is just a shorter period with some added dimensions. We think the aspects we've added have attracted more youngsters."
As part of their attempts to reach a larger audience the WBT and English Indoor Bowling Association have also arranged a deal with subscription channel Premier Sports, who have invested "upwards of £500,000" to screen weekly bowls.
"It's the first time ever that bowls will be on every week. Which people have been crying out for," said Maddison.
"It's up to us as bowlers if we want to support it. If we support it it will carry on. if it's not supported bowls will not get the TV time it's cried out for."