Alison Merrien reached women's final at World Indoor Bowls
Last updated on .From the section Bowls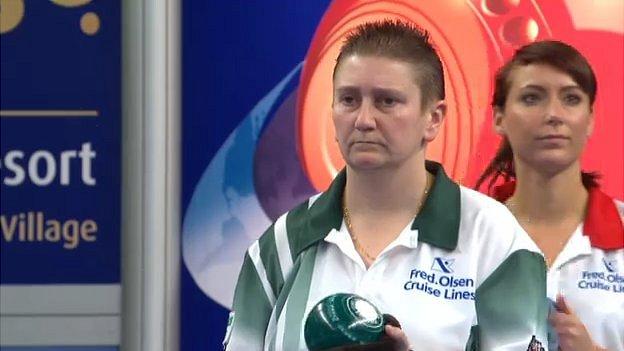 Guernsey bowler Alison Merrien overcame Kelly Packwood from Wales to book her place in the women's singles final at the World Indoor Championship.
Merrien established early leads in both sets and won through 7-6, 11-1 at Potters in Great Yarmouth, Norfolk.
"It's a fantastic feeling, it was a game of two halves really.
"Kelly had some hard luck her running bowls just didn't come off today whereas she's normally a good striking player," she said.
Merrien won her seventh title in 2011, having lost to Debbie Stavrou on tiebreak in the previous two finals in 2009 and 2010.
Last year she lost to Stavrou at the semi-final stage, but this time it will be Rebecca Field who stands between her and a second title.
This time she will be up against Rebecca Field, who comes from, Norwich and will have plenty of local support.
"Hopefully it will be a good final," Merrien added.