Scottish International: Champion Paul Foster faces Nick Brett in final
Last updated on .From the section Bowls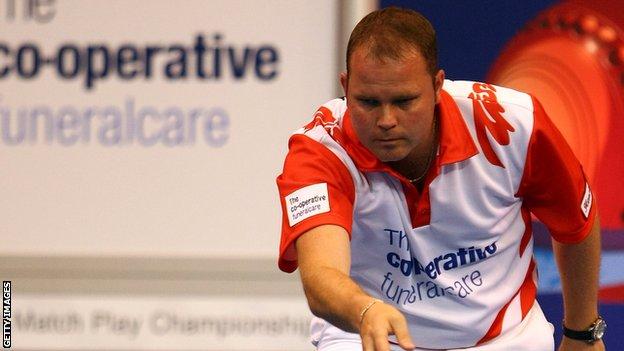 Reigning champion Paul Foster will play Nick Brett in a re-run of last year's final of the Scottish International Open in Perth.
Present world number one Foster defeated a former one, eighth-seeded Englishman Greg Harlow, 7-7 10-7.
Englishman Brett, seeded 10th, edged out Jason Greenslade, the 13th seed from Wales, 8-8 7-6.
Brett will be hoping to complete a hat-trick of wins over Scots, having beaten Alex Marshall and David Gourlay.
But, despite those wins over two former world champions, he admits that he will have to improve on his performance in a nervy semi-final against Greenslade, who battled back from poor starts in both sets.
"Paul is playing sensational stuff and I am going to have to up my game probably more than I ever have done to beat him," Brett told BBC Two Scotland.
"We were both struggling with the weight. There is always pressure, but there's more when you're not quite there and I just managed to find a good one now and again."
The second semi-final was in stark contrast to the first, after which Foster and Harlow praised an epic contest.
Foster said: "To be honest, it was one of the best games I've been involved in.
"Greg is a tough man to shake off.
"I am in the final, but I'm not thinking of that yet. I'll just enjoy tonight."
Foster required a double on the final end of the first set to rescue a half and was in control of the second set at 5-0 ahead until Harlow produced a full house at the fifth end to pull to within a point.
However, the Scot sealed a 10-7 win with a double in the final end.
Harlow thought the full house he scored was probably the "best end of my career".
"I'm not in any way disappointed because of the quality of the game," he added.
"I can't remember playing better than that and being in such a great match.
"I could not have given anything more."