Commonwealth Games bowler Natalie Melmore to take 2015 off
By Brent Pilnick
BBC Sport
Last updated on .From the section Bowls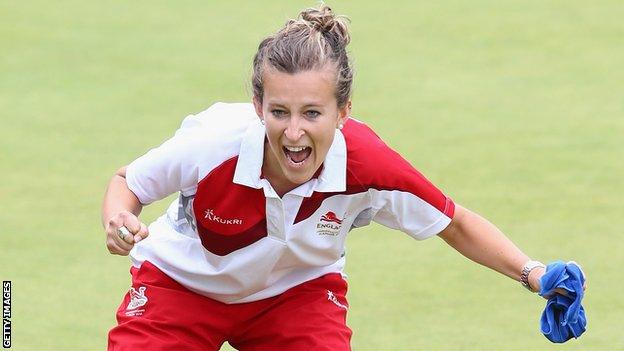 Commonwealth Games double-silver medallist Natalie Melmore is to take a year out of bowls in 2015.
Melmore, 25, won the England national singles title this weekend to add to the and medals she won in Glasgow earlier this month.
She is set to marry England team-mate Jamie Chestney next year.
"We want to have time off to enjoy our married life together because you don't often have much free time in bowls," Melmore said.
"It's almost a full-time job in itself playing bowls, so we'll come back in 2016 refreshed having had some time off," she added to BBC Sport.
Melmore won gold at the 2010 Commonwealth Games in Delhi and says she is still hoping to win back the title at the Gold Coast in four years time.
"I've achieved more than I could have ever dreamed of when I started playing bowls," said Melmore, who plays for the Kings Bowling Club in Torquay.
"To be able to say that at 25 is amazing, but I'm still competitive and love to win, and to be able to look ahead to the Gold Coast in four years time will be amazing.
"But I've been playing bowls for 16 years, so basically my whole adult life, and I think it's time for a break.
"I'll come back after having a year off and start again.
"I'm certainly not expecting to come straight back into the fold for everything, because that's not fair, a year is a long time to be away for in terms of the elite level at our sport, so I'll have to start again in 2016 and see what it brings."