Pair win Guernsey's first ever gold at European Championships
Last updated on .From the section Bowls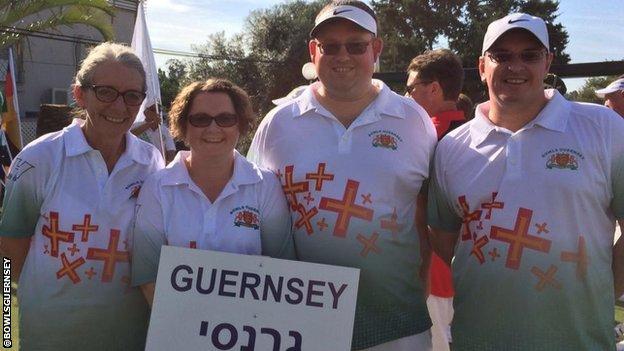 Matt Solway and Matt Le Ber have won Guernsey's first-ever European gold medal at the championships in Israel.
The duo took first place in the men's pairs, getting the draw they needed against Spain in their final match.
Jackie Nicolle and Lucy Beere took bronze for the islanders in the ladies pairs after beating the Netherlands.
The quartet combined to claim a silver medal in the mixed fours by defeating Wales, which also resulted in Guernsey winning silver in the overall category.
"It's a really good sign that Guernsey bowls is up there rocking the world and I'm just exceptionally proud," said Guernsey Bowls secretary Garry Collins.
"For the guys to go there and be able to play people like Ireland, Wales and England, and do really well, is absolutely fantastic."
The team come away from the tournament with four medals, their best ever haul at a European Championships.