Scottish International Open: Champion trio reach semi-finals
Last updated on .From the section Bowls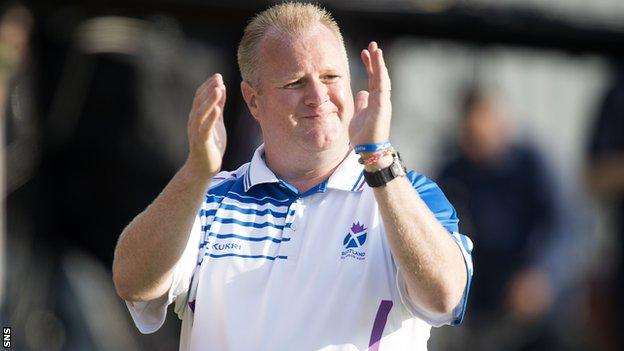 Former world indoor champions Stewart Anderson, Darren Burnett and Greg Harlow have reached the semi-finals of the Scottish International Open.
Anderson defeated England's Andy Thomson 9-4 13-3 in Perth.
The Scot will face Wales' Jason Greenslade, who beat England's Les Gillet 11-6 8-4, in the last four.
England's Harlow beat Jonathan Ross 10-1 3-9 2-0 and will face another Scot, Burnett, who beat Englishman Mark Royal 8-5 3-11 2-1.
Royal had knocked out second seed and former world champion Paul Foster 9-4 7-5 in the second round.
And Burnett, who won the 2014 world title and Commonwealth Games gold in Glasgow, was relieved to scrape through against the 13th seed.
"Mark's been playing some great bowls in this tournament and I just had to dig in," the seventh seed told BBC Scotland. "It was only millimetres in the game."
Anderson had also taken a major scalp in the second round, knocking out top seed and holder Nicky Brett 11-8 5-9 2-0.
In defeating Scottish-born fifth seed Thomson, the Scot also ousted the highest ranked player left in the quarter-finals.
Anderson, the ninth seed, said: "I think the game was a bit scratchy by both myself and Andy, but I am just happy to get across the line."
Thomson admitted that, after a close first set, he had let the game slip away from him in the second.
"I needed to make a good start to the second and my bowl in the second end was probably the worst I've played in 10 years and, after that, he just steamrollered me," he said.
"I have been practising quite well and my form was good, but I was down in my performance today."
Harlow's win over 11th seed Richardson came after an even more impressive victory over a Scot.
The 10th seed had defeated Alex Marshall, who won his sixth world indoor title in January, 3-8 7-6 2-0 in the second round.
Co-Operative Funeral Care Scottish International Open quarter-finals
(12) Jason Greenslade (Wales) bt (15) Les Gillett (England) 11-6 8-4
(9) Stewart Anderson (Scotland) bt (5) Andy Thomson (England) 9-4 13-3
(7) Darren Burnett (Scotland) bt (13) Mark Royal (England) 8-5 3-11 2-1
(10) Greg Harlow (England) bt (11) Jonathan Ross (Scotland) 10-1 3-9 2-0.