Scottish International Open: Alex Marshall and Paul Foster through to last four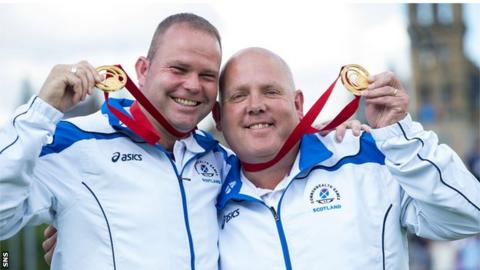 Scottish International Open
Venue: Dewars Centre, Perth Dates: 5-12 November
Coverage: Live coverage and highlights on BBC Two Scotland (various times)
Alex Marshall and Paul Foster booked their places in the last four of the Scottish International Open to set-up an all-Scottish semi-final.
Marshall defeated Andy Thomson 8-3 12-3, while Foster eliminated world number one Nick Brett 10-3 3-8 2-0.
Defending champion Greg Harlow booked his semi-final place with a 9-8 9-3 win over Wayne Wilgress.
Harlow will face Rob Paxton in the last four after his fellow Englishman beat Mervyn King 11-4 10-5.
Results
Quarter-finals
(3) Alex Marshall (Sco) bt (8) Andy Thomson (Eng) 8-3 12-3
(6) Paul Foster (Sco) bt (2) Nick Brett (Eng) 10-3 3-8 2-0
(1) Greg Harlow (Eng) bt Wayne Wilgress 9-8 9-3
(4) Rob Paxton (Eng) bt (10) Mervyn King 9-8 8-4
Second round
(10) Mervyn King (Eng) bt (5) David Gourlay (Sco) 9-8 8-4
Wayne Willgress (Eng) bt (7) Darren Burnett (Sco) 4-11 9-4 2-0
(1) Greg Harlow (Eng) bt Trevor Taylor (Eng) 8-3 9-5
(4) Robert Paxton (Eng) bt Connor Cinato (Eng) 11-5 6-6
(8) Andy Thomson (Eng) bt (9) Stewart Anderson (Sco) 7-4 5-8 2-1
(3) Alex Marshall (Sco) bt (14) Jamie Chestney (Eng) 10-6 7-6
(6) Paul Foster (Sco) bt (16) Mark Dawes (Eng) 10-4 2-11 2-1
(2) Nicky Brett (Eng) bt (15) Les Gillett (Eng) 8-10 5-4 2-0
First round
Wayne Willgress (Eng) bt (13) Jonathan Ross (13) 6-4 8-5
(7) Darren Burnett (Sco) bt Steve Halmai (USA) 7-4 4-8 2-0
(5) David Gourlay (Sco) bt Ruti Gilor (Isr) 8-6 9-7
(10) Mervyn King (Eng) bt Lisa Featherby (Aus) 15-5 7-5
Connor Cinato (Eng) bt (12) Jason Greenslade (Wal) 7-6 6-5
(4) Robert Paxton (Eng) bt Anthony Webb (Eng) 3-8 6-5 2-0
(3) Alex Marshall (Sco) bt Mark Sandford (Can) 14-1 11-3
(14) Jamie Chestney (Eng) bt David Corkill (Irl) 5-5 9-6
(9) Stewart Anderson (Sco) bt Sheldon Bagrie-Howley (NZ) 9-2 10-7
(8) Andy Thomson (Eng) bt James Smith (Aus) 8-7 6-7 2-0
(16) Mark Dawes (Eng) bt Billy Jackson (Eng) 5-10 11-4 2-1
(15) Les Gillett (Eng) bt Anthony Yip (Hkg) 11-2 9-5
(2) Nicky Brett (Eng) bt Mark McPeak (Irl) 2-10 11-4 2-1
(1) Greg Harlow (Eng) bt Damian Doubler (Wal) 11-0 6-8 2-1
(6) Paul Foster (Sco) bt Chris Gale (Eng) 14-1 7-3
Trevor Taylor (Eng) bt (11) Mark Royal (Eng) 9-6 10-4