Scottish International Open: Stewart Anderson loses to wildcard Michael Stepney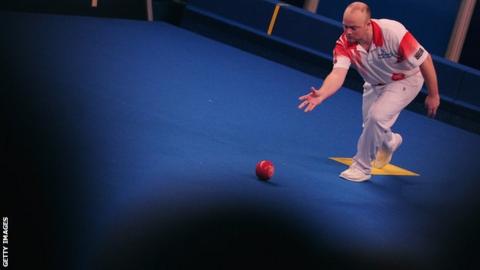 Former world champion Stewart Anderson became the first seed to fall at the Scottish International Open as he lost to fellow Scot Michael Stepney.
Wildcard entrant Stepney beat the seventh seed 9-3 2-12 2-0 and will face England's Perry Martin, who himself knocked out a Scottish seed in Perth.
Martin defeated Jonathan Ross, the 15th seed, 8-6 4-9 2-1 in the first round.
English seeds Mervyn King, Jamie Chestney, Andy Thomson, Mark Dawes and Les Gillett all progressed.
King, ranked 14, beat South Africa's Martin Head 9-2 11-2 and eighth seed Chestney defeated Daniel Alonim of Israel 14-0 10-5.
Scottish-born Thomson, seeded 10, edged out Australia's Stephen Halmai 7-8 11-5 2-1.
Dawes, the 12th seed, ousted Ireland's Graham McKee 8-6 8-10 2-1, while Gillet got the better of compatriot Scott Edwards 9-7 9-9.