Scottish International Open: Greg Harlow's triple title bid ended by Mervyn King
Last updated on .From the section Bowls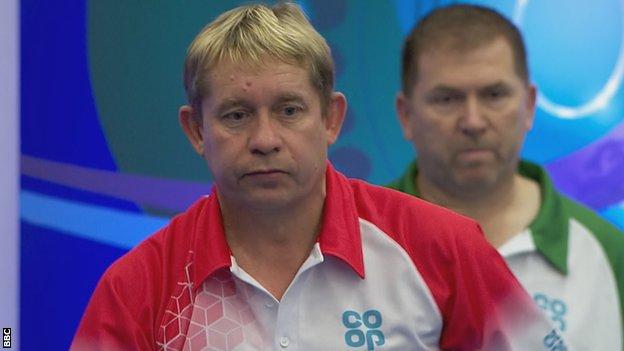 Greg Harlow's bid for a third Scottish International Open title in a row ended with a second-round defeat by fellow Englishman Mervyn King.
King, the 14th seed, beat the top seed 9-5 8-6 in Perth.
Harlow, the 2010 world champion, told BBC Sport: "I didn't get into my rhythm today. I just didn't get going.
"Merv played well and is a worthy winner. I hope he wins the title, that would be nice. Some scrappy stuff, but he played by far the better bowls."
A delighted King, who won the world title in 2006, said: "I think we could have both played a little bit better to be honest.
"A bit in and out, some brilliant shots and some poor, but glad to get over the line.
"I am just taking each game as it comes and, if I keep playing well, I'll be in with a shout."
Joining King in the quarter-finals is current world champion Paul Foster, last year's beaten finalist, who dominated English 12th seed Mark Dawes 10-5 9-4.
There was a controversial moment as the rules were checked after Foster split the jack in half with a heavy drive.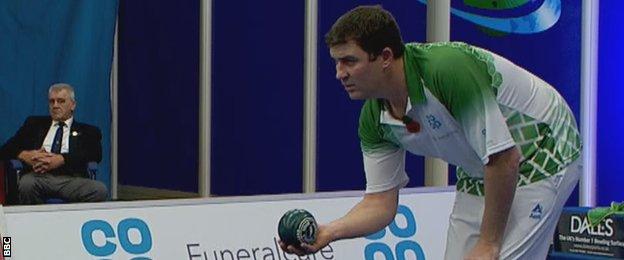 "I've never seen it before and I've certainly never done it," said the Scottish five-time world champion.
"I know there's a lot of hard-hitters on this tour, but you don't expect a jack to crack like that.
"I'm delighted with how I've been playing, but all credit to Mark - I couldn't have played any better in the first set and yet I was only 6-5 up. That just shows you how good a player Mark is.
"It is the first tournament of the season and you want to play well. My form's great and hopefully I can keep it going."
Foster, seeded four, will next face eighth-seeded Englishman Jamie Chestney, who defeated three-time world champion Andy Thomson, the Scottish-born 10th seed, 8-6 9-3.
Scotland's Michael Stepney, who needed a wildcard into the tournament, has knocked out seventh seeded 2013 world champion Stewart Anderson and has now reached the quarter-finals after winning the meeting of two unseeded players.
Stepney defeated England's Perry Martin, who had knocked out 15th seed Jonathan Ross, 8-3 8-4 and faces King in the last eight.
The remaining four second-round matches will be played on Wednesday, with the quarter-finals on Thursday, the semi-finals on Friday and the final on Saturday.