Miguel Cotto stops Ricardo Mayorga to retain WBA title
Last updated on .From the section Boxing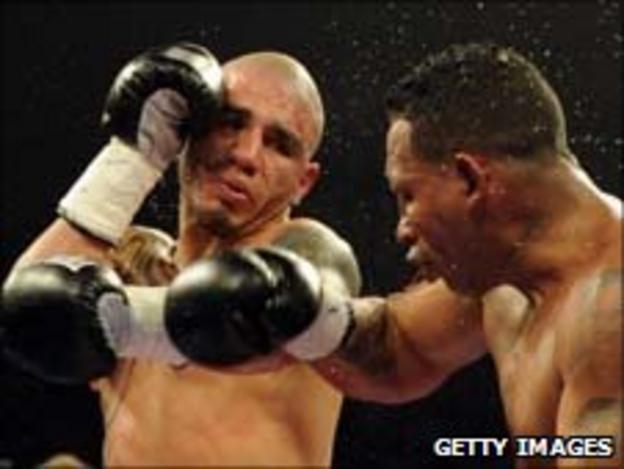 Puerto Rico's Miguel Cotto stopped Nicaraguan challenger Ricardo Mayorga in the 12th round to retain his WBA super-welterweight title.
Cotto was well ahead on the judges' scorecards when he caught Mayorga with a short left hook that sent the challenger staggering backwards and down on one knee.
Mayorga beat the count but a follow-up barrage backed him into a corner.
He then draped his arms on the ropes and signalled he had had enough.
Referee Robert Byrd quickly stopped the fight.
Cotto, who improved his record to 36-2 (29 KOs) said: "It was a really good fight with an amazing finish.
"He is a very strong fighter. He hit me with some really good shots."
Mayorga claimed that during the exchange of punches that resulted in his knockdown, he took a painful blow to his left thumb.
"I felt my thumb touch the back of my hand," he commented. "I tried to finish the final round but the pain was too much. I don't care about my thumb. I didn't want it to end like that. I tried to close my fist, but I couldn't."
Cotto found success with a game plan of boxing behind a stiff left jab and left hooks, unleashing flurries and then moving out of range.
And by the ninth round, Mayorga's right eye was swollen almost shut by the champion's effective left hand.
Mayorga did have his moments, particularly in the seventh round, when he was able to catch Cotto with several hard punches that threatened to turn the momentum of the fight.
Earlier on Saturday, Sergio Martinez of Argentina stopped Sergiy Dzinziruk in the eighth round of a middleweight bout after knocking the Ukrainian down three times.