John Thain continues pro journey with fourth victory
By Keir Murray
BBC Scotland
Last updated on .From the section Boxing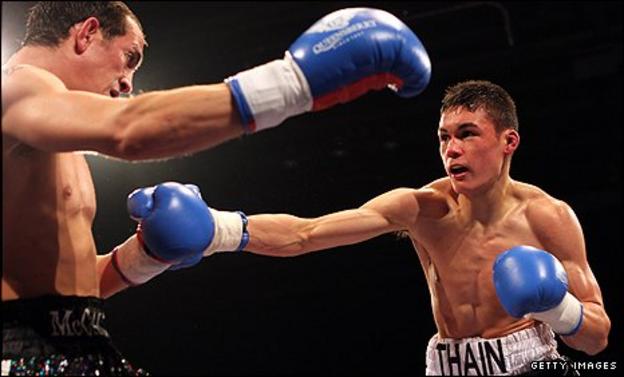 Edinburgh light-middleweight John Thain was happy to extend his pro experience after beating Kevin McCauley in a four-rounder at the Braehead Arena.
The 40-36 points win tested Thain more than his previous bout, a 90-second stoppage of Iain Eldridge in December.
"It's good at the start of a career to get the rounds in and get the experience of being in there," he said.
"I learned that you can't get a guy out with one shot, especially if he doesn't want to be knocked out."
Thain, trained by Terry McCormack at Edinburgh's Lochend Boxing Club, had fought only three times before Saturday's contest.
Strangely, his first bout in the paid ranks was also against against McCauley, from the West Midlands.
"It's exactly one year since my first fight last year, also against Kevin. It's a different venue but the same result, which is pretty good," added the 23-year-old.
"I think we have improved on the performance because the last time I got involved too much, I took a few punches.
"Dean Powell said, 'There are no marks on your face this time,' so that's an improvement - I'm glad!"
And Thain felt that other aspects of his performance against 31-year-old McCauley had been better than in previous displays.
"I think I learned more in those four rounds than I did in my last fight, obviously, because there was more time," he said.
"And compared to my last fight against Kevin, I moved my feet a bit better and I used my left hand a lot more.
"I had the reach advantage so I used that to keep him off me and not let him get close, because he wanted to get into my body and throw his short punches."
The Scot's enthusiasm for the job was highlighted by his remark to McCormack after being awarded the verdict at Braehead in Glasgow, winning every round.
"As soon as I got out of the ring, I said, 'When is the next one?'
"But I know it's a case of taking one fight at a time. As soon as we get back to the gym we are waiting for the next one."
McCormack has spoken of his admiration for Thain's work ethic but his protege admits things are not always completely harmonious between the pair.
"Terry is my pal, but he is also my trainer," he said. "We're not at the gym to have a good time, though we do: he always makes sure I am working hard.
"I try to keep him happy and make sure my running is done. If you don't work hard, you get found out. That's the plain truth.
"It's a great feeling to go in the ring when you know all the hard work is done and you can concentrate on the fighting.
"The idea is to peak on the night. If you are doing four rounds, you want to build it up to, say, six and then eight, plus sparring, pads and running.
"You want to build it up week by week so by the time fight comes you are in peak physical condition and ready to perform.
"But I'll fight whenever I'm told and I am always in the gym so it is like we are always waiting."
McCauley's bout against the Edinburgh fighter was his fifth since January and the badly bruised left eye he sported after the defeat by Thain was proof of just what a tough business the novice fighter has let himself in for.
But the clinical performance by Thain against McCauley, who was cheered on by his mother and a growing band of fans, shows he is learning the ropes in the correct manner.