Wales' Arthur confirms retirement
Last updated on .From the section Boxing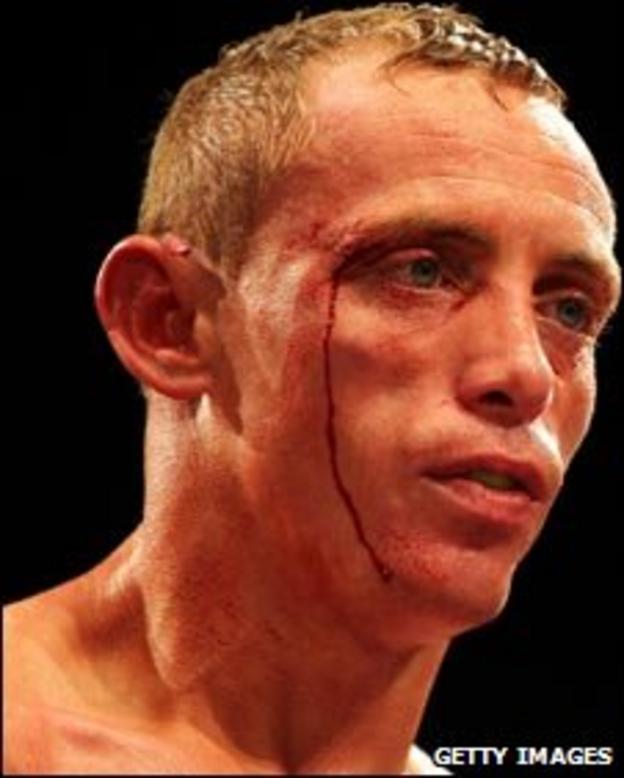 Former Commonwealth Games champion Jamie Arthur has retired from boxing.
Arthur shot to prominence when he beat Dennis Zimba in the Manchester final to become Wales' first Commonwealth boxing champion since Howard Winstone in 1958.
"At my age I've got to look at my future outside the ring and my family," said the 31-year-old.
"I want to put my family in a better financial situation rather then live my dream of trying to become a British champion."
Arthur won the vacant Commonwealth super-bantamweight belt in 2010 after beating Kris Hughes and had two British title shots - narrowly failing on both occasions on points - since coming back from his first retirement in 2008.
"I had unfinished business and more to give the last time I quit," said Arthur. "But this time it is for good."
The Cwmbran boxer initially quit in 2005 following back-to-back defeats but returned to the ring where he enjoyed his best performances since turning professional in 2003.
But family man Arthur, a full-time skilled draftsman and personal trainer, has retired to kick-start his post-boxing career.
"I've a few post-boxing projects that I couldn't undertake if I continues fighting," said Arthur.
"People see us fighting on TV and thinking we're earning huge amounts of money but unfortunately we're not.
"A lot of us hold down a full-time job as well as train five or six hours a day when preparing for a fight.
"I've had to take out loans to keep my family afloat and couple that with training and running your own business, it is hard work.
"Without some of my loyal sponsors, I would not have been able to keep on boxing - and that is not living the life of a pop star, it is merely to pay the bills.
"I now want to reestablish my business and spend some time with my family as I hardly saw them when I was training."
Arthur has won 18 of his 23 professional bouts - but three of his defeats have happened in the last 12 months as he fought the toughest fights of his career.
He starred in the Prizefighter super-bantamweight show last year after battling to a valiant and bruising British title defeat to Martin Lindsay before narrowly losing to Booth in February.
"I've had a great career and enjoyed every moment so retirement is emotional but the right thing to do now," said Arthur, who was once a stablemate of boxing great Joe Calzaghe.