Floyd Mayweather hearing delayed for a third time
Last updated on .From the section Boxing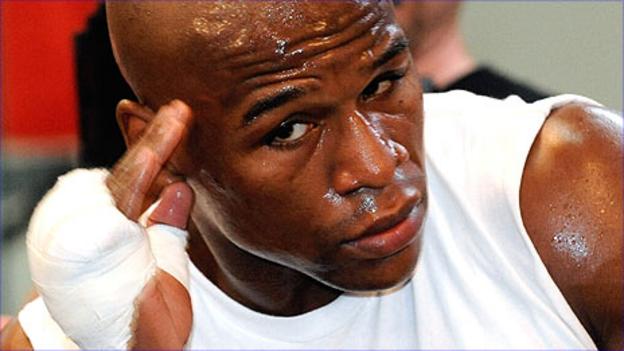 Floyd Mayweather's hearing on domestic violence charges, for which he could be jailed for 34 years if found guilty, was postponed a third time on Thursday.
The preliminary hearing, already postponed in January and March, was delayed again until 29 July.
It puts in further doubt a potential super-fight with Philippine legend Manny Pacquiao.
The two men were due to meet last year before a row over drug testing scuppered the bout.
Five-weight world champion Mayweather is charged with grand larceny, coercion and robbery stemming from a dispute last September with former girlfriend Josie Harris.
The American, 34, is accused of striking and threatening her, stealing her mobile telephone and threatening their two children.
Mayweather also faces a 1 September trial date on a battery charge for allegedly poking a security guard in the face during a scuffle last November over parking tickets.
Plans for a fight between Mayweather and Pacquiao last March fell through when the Filipino, a six-weight world champion, rejected his opponent's demand for random drug-testing in the build-up to the bout.
Mayweather had said Pacquiao's refusal to undergo blood tests up to the day of their proposed fight meant his rival had something to hide.
It had been hoped their differences could be ironed out, but Mayweather's legal woes have made any match-up even more unlikely.
Mayweather, who is undefeated in 41 fights, has not fought since a dominant points win over fellow American Shane Mosley last May and he has fought only twice since stopping Britain's Ricky Hatton in December 2007.
Pacquiao's last fight was a stunning defeat of Mexican Antonio Margarito last November and he faces Mosley on 7 May.
However, the 32-year-old, who has 52 wins from 57 fights, won a seat in the Philippine Congress last May and there have been suggestions he is ready to quit the sport.