Haye labels Klitschko a fraud ahead of world title bout
Last updated on .From the section Boxing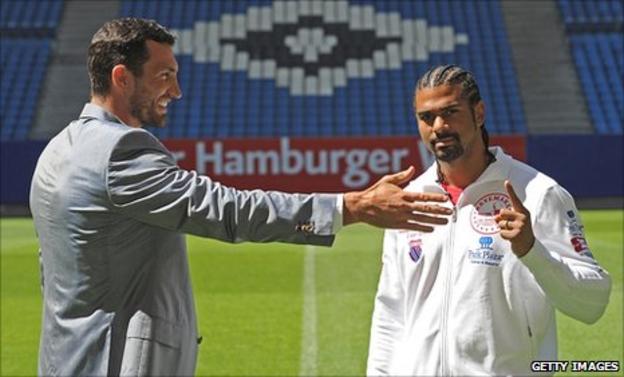 David Haye labelled Wladimir Klitschko "a fraud" at a news conference in Hamburg to promote their world heavyweight unification fight.
Britain's WBA title-holder meets Ukraine's IBF and WBO champion at the Imtech Arena on 2 July.
"I've seen his style and seen what he does in the ring and he's a fraud," said the 30-year-old Haye.
"He wears big shoulderpads in his gown and picks guys who suit him perfectly, but I'm not fooled."
Haye had been due to fight Klitschko in June 2009 but was forced to withdraw with an injury, but the Englishman added that "the boxing gods have decided 2 July is the date I become unified champion".
"I looked into [Klitschko's] eyes for 20 minutes and visualised me destroying him," added Haye, who has 25 wins from 26 fights.
"I looked into his eyes and saw him beaten and broken. He's never fought anyone with my attributes, it's new territory for me and for him.
"He'll do what he always does. I've fought these 'robots' before - I've never lost, at amateur or professional level, to an eastern European fighter and that's not going to change now.
"He's got an impressive jab, I've seen him sicken people with it, but I don't believe the fight will go 12 rounds.
"Wladimir Klitschko's not tough enough, mentally or physically, no way - unless he gets a chin transplant, and with eight weeks I don't think there's time enough for that to heal.
"As soon as I let my hands go, the fight's over. I anticipate between 15,000 and 20,000 British fans coming over and they're going to see a knockout and a good show as well. He's getting destroyed.
"I know what he's about. I was watching this guy even when I was a cruiserweight, I believed I could knock him out even then.
"For the first time he's fighting someone who's healthy, he normally picks people who are injured or coming off a long lay-off. I'm a prime athlete in my peak coming off a nice long streak of spectacular victories.
"And I'm used to winning titles abroad - I went to Paris and beat the undisputed cruiserweight champion in Jean Marc Mormeck, I went to Germany and beat a 7ft 2in giant in Nikolay Valuev, who Wladimir and his brother [WBC title-holder Vitali] have been avoding for years.
"I'm someone who's going to mess with him, inside and outside of the ring, inside his head - he's in for a fight."
In a tense exchange, Klitschko, 35, offered his hand to Haye only for it to be refused, and the Ukrainian vowed to teach his rival "a lesson in respect" on 2 July.
"I really respect him, he's a tremendous fighter with an impressive record," said Klitschko. "He has heavy hands and great speed as well as being motivated and this time the steam came out of his ears because suddenly he has this anger and I think I will be challenged in the ring.
"But I'll make sure I'll prepare accordingly. David Haye is going to be my 50th knockout. Forty nine fighters have been knocked out in the last 15 years and David Haye has completely disrespected them.
"I will show him that he is just going to be another like the 49 before, he will be number 50 on 2 July, that is the way it is going to be."
Meanwhile, Klitschko's manager Bernd Boente defended the decision to give his charge top billing during the promotion.
He said: "Wladimir has been a heavyweight champion since 2006, he's The Ring magazine champion, he's the number one, that is why he is is top billing. There are four belts here [Klitschko also owns the fringe IBO strap], and David Haye has one."