GB boxer Charlie Edwards confident of ABA victory
Last updated on .From the section Boxing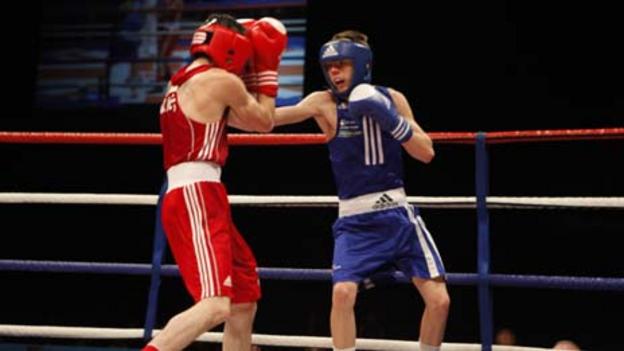 GB boxer Charlie Edwards says he hopes victory at the ABA finals on Friday in Colchester will propel him into the reckoning for Olympic selection.
Light-flyweight Edwards takes on Mohammed Wagas in his first ABA final, which will be watched by GB Boxing's performance director Rob McCracken.
"I've studied my opponent, I'm confident of victory, he's there to be beaten," Edwards told BBC Sport.
Other boxers in action include talented light-welterweight Danny Phillips.
Edwards, 18, is currently part of GB Boxing's development squad but victory on Friday will cement his place as the best light-flyweight around [with no 48kg boxer currently in the podium squad].
He already has the GB Amateur Championships victory on his CV as well as a host of junior and schoolboy titles, home and abroad. Beating Wagas on Friday will end any argument about whether he deserves his place in the GB squad.
"If I'm looking at the bigger picture, if I can't beat this opponent then there is nothing out there for me," admitted Edwards.
"I need to show everyone how good I am, how good I can perform, beat this opponent, win the title and hopefully move onto bigger and better things."
Edwards has been boxing since he was 11 and winning titles since he was 13, and boxing at the London Games has always been his ultimate ambition.
The Beddington boxer is so committed to his sport that he has a boxing ring in his garden and a gym in his garage.
He trains at the English Institute of Sport in Sheffield with the GB development squad every fortnight from Thursday to Sunday. When he is not in Sheffield with technical and development coach Gary Hale, he is training full-time, either at home or at Raptors gym in Sutton, Surrey, under the watchful eye of his strength and conditioning coach Wayne Dudley.
While winning the ABAs on Friday will be a big coup for Edwards in his first year as a senior, his victory will open a number of doors that could lead to Olympic selection.
September's World Championships in Azerbaijan double up as an Olympic qualifying event and Edwards is aiming to make the British team for that tournament.
"I am GB number one at my weight at the moment and winning on Friday will confirm that," said Edwards.
"After Friday, no-one will be able to argue that they should be in the squad.
"But I know I need to put on a really good performance and show Rob that I am capable of going to these Olympic qualifiers and these major tournaments and winning a medal.
"Rob is looking at my performance on Friday and it's important I prove to him that I am the man for the job and that I deserve to go to the World Championships. The World Championships are my goal, hopefully Rob will give me that chance.
"If not, then there are a lot of other international tournaments before and after where I could still gain the experience needed to box at the Olympics."
McCracken stated: "Performing well in their home nation ABAs is one of the main talent pathways for young boxers in England, Scotland and Wales to establish themselves nationally and come into contention for GB Boxing's podium and development squads.
"I have always said the door is not closed on selection and there is still an opportunity for someone who shows exceptional talent to make a late run for 2012."
Another member of the development squad in action is super-heavyweight Anthony Joshua, who takes on Fayz Abbas from the Northside club.
Phillips, meanwhile, will mark his return to action on Friday after a turbulent 12 months.
The 20-year-old was considered a hot prospect for the Olympics this time last year, but went from potential hero to zero when he lost his podium squad place and funding due to "disciplinary infringements".
But victory over Louis Adolphe will put him back on the radar of the GB coaches, who rate the Teessider very highly, and could see him make a late charge into the podium squad and selection for the World Championships/Olympic qualifiers.
ABA boxing finals in Colchester:
48kg Charlie Edwards (Lynn) v Mohammed Wagas (South Bank)
51kg Charlie Hoy (Repton) v Jason Cunningham (St Paul's)
54kg Adam Whitfield (Army) v Alimaan Hussain (Aston)
57kg Mitchell Smith (Welwyn Garden City) v Chris Blinkhorn (Castle Hill)
60kg Brett Beadon (Repton) v Sam Maxwell (Salisbury)
63.5kg Louis Adolphe (Earlsfield) v Danny Phillips (South Bank)
67kg Steve Turner (Army) v Damon Jones (West Leeds)
71kg Thomas Baker (West Ham) v James Metcalf (Salisbury)
75kg John Dignum (Brentwood Youth) v James Seddon (Transport)
81kg Sam Pomphrey (Broadplain) v Michael Watson (South Durham)
86kg Deion Jumah (Dale Youth) v Jamie Hughes (Highfields)
91kg Ben Ilyemi (Dale Youth) v Chris Healey (Bredbury & Stockport)
91kg+ Anthony Joshua (Finchley) v Fayz Abbas (Northside)