ABA champion Danny Phillips takes path to redemption
By Nabil Hassan
BBC Sport at the ABA finals in Colchester
Last updated on .From the section Boxing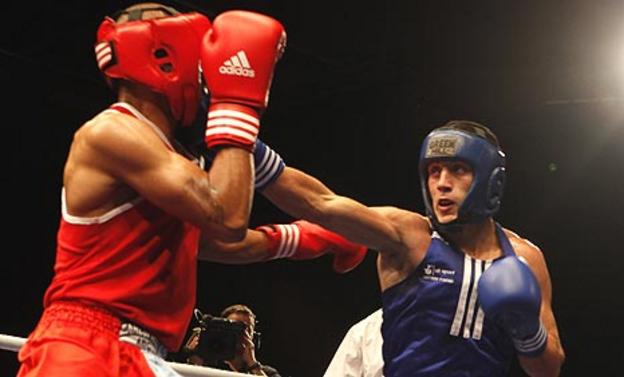 It is fitting that Danny Phillips should win a first ABA title on the eve of his baby's first birthday.
It was arrival of his son Levi that made Phillips realise just what he was in danger of throwing away.
Considered one of the brightest amateur boxers in Great Britain and a certainty for the 2012 Olympics, Phillips's world fell apart when he was booted out of the GB squad for disciplinary reasons.
The powers that be at GB boxing had finally run out of patience with the loose cannon that was the talented Phillips.
"I'll never forget when I got the letter through the post telling me I was being kicked out of the squad, it was the lowest point," Phillips told BBC Sport.
To make matters worse, Phillips saw his close friend and team-mate Simon Vallily win Commonwealth Games heavyweight gold for England last year while he was left behind for failing to make the weight before his semi-final in the qualifiers.
Tom Stalker ended up representing England at lightweight and he too went on to win gold in India.
Phillips is from Middlesbrough's South Bank area. It is a place that once relied on the steel industry and shipbuilding for its identity and the jobs of many of its residents, but those days are long gone.
"I fell in with the wrong crowd, I threw it all away," admits the 20-year-old.
"South Bank is a rundown area and there is no good coming from it.
"It is a small area, but there are a lot of people there doing nothing. There is lots of crime and unemployment and boxing is my way out of that."
But that was then, this is now. Twelve months on and Phillips is on the path to redemption, with fatherhood giving him a different outlook on life.
Phillips marked his comeback on Friday with a hard-fought victory over Louis Adolphe in the light-welterweight ABA final in Colchester.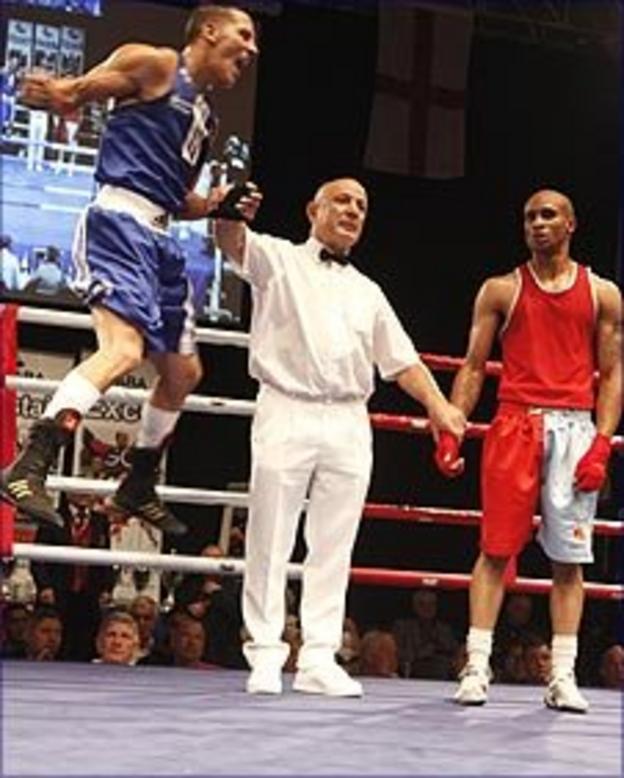 He hopes the victory and his change in attitude will open the door to a potential return to the GB set-up, with performance director Rob McCracken admitting before the ABA finals that "the door is always open".
But even if he does return to his best, Phillips has some fine boxers in his way with Stalker currently occupying the lightweight position and Scott Cardle and Bradley Saunders in the light-welterweight slots.
"I know where I went wrong, I look back and I kick myself but I'd do anything to get back on the team," says Phillips.
"I thought about quitting, but it would have been a waste of everything I had worked hard for.
"I haven't heard from Rob but it gave me a boost to hear him say the door wasn't shut. We'll see what happens."
Phillips is unsure what the next few months hold for him, but whether or not he gets back into the GB squad in time for the Olympics, he is confident that boxing will help him provide a better life for his baby boy.
"I want to achieve good things for my son," he said.
"I don't want him to grow up in the same area I grew up. I want him to grow up in a nice area.
"I'm just trying to keep in with the right crowd, get my head down, and get out of South Bank. Boxing is my way out. If I don't do that then I'll be in jail or on the streets."