Paddy Barnes forced out of Euro Championships defence
Last updated on .From the section Boxing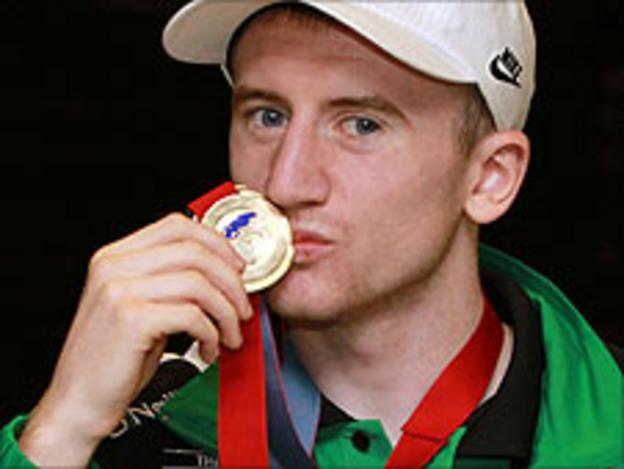 Paddy Barnes has had to pull out of the defence of his European Amateur title.
Barnes suffered a wrist injury in training two weeks ago and a scan revealed that the Belfast man had not fully recovered.
The Olympic bronze medallist was scheduled to travel to the Championship venue of Ankara in Turkey with the Irish team on Saturday.
Barnes had been aiming to become the first Irishman to win back-to-back European titles.
Barnes, 24 won light-flyweight gold in Moscow in 2010, beating Elvin Mamishzade of Azerbaijan in the final.
The light-flyweight also won gold at the Commonwealth Games in Delhi last year.
As well as the gold won by Barnes, the Irish squad claimed a silver and three bronze medals at the 2010 European championships.
Barnes will now attempt to regain fitness ahead of the World Championships later this year, which are a qualifying event for the London Olympics.
The scan showed that Barnes has suffered ligament damage and bruising on the bones in his left hand.
"Paddy was eagerly looking forward to defending his title in Turkey but the injury has prevented him from doing that," said Irish head coach Billy Walsh.
"It's a big blow to the Irish squad as we have lost a European champion to injury. The important thing now is that Paddy gets back to full fitness for the World Championships and Olympic qualifiers in Baku next September and October."
The draw for the 2011 European Championships will be held next Thursday.