Haye relishing 'career-defining' fight against Klitschko
Last updated on .From the section Boxing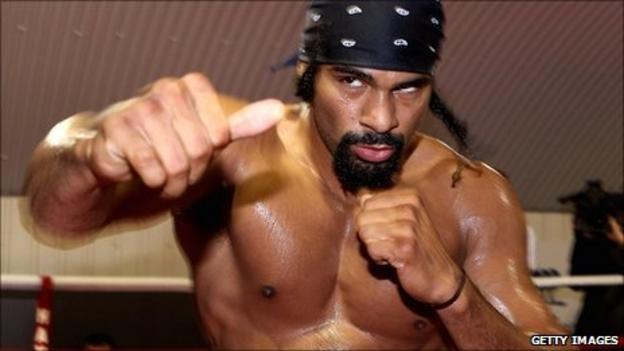 David Haye admits the heavyweight unification fight with Wladimir Klitschko in Hamburg on 2 July is his "career-defining" moment.
Britain's WBA title-holder Haye faces the IBF and WBO champion Klitschko from Ukraine in what may be his last bout.
"This is it, my career-defining fight," said the 30-year-old, who wants to retire before turning 31 on 13 October.
"I took Nikolai Valuev's titles, but there's more at stake in this one. This is my legacy-deciding fight."
Haye excelled as a cruiserweight, but he expects his reputation as a heavyweight to live or die by what happens at the Imtech Arena as he goes head-to-head with Klitschko.
He seized his WBA title from the giant Valuev in 2009, and although the Londonder says he has never fought anyone in Klitschko's class, he believes he is in the best shape of his life to take on the 35-year-old.
"Klitschko is by far the greatest challenge I've faced," added Haye. "I've never met anyone with his attributes before. I've fought big guys, but this guy is faster, more accomplished and has a lot of belts.
"It will take nothing less than a perfect performance to beat him, but I'm training to be faster, more athletic and punch harder than ever before. I know that if I don't do that then things could go wrong.
"But I'm making sure all angles are covered in the gym. Come fight night on 2 July, I'm going to take his head off."
Haye also warned Klitschko - who has earned 49 knockouts in his 55 fights - he will test him out with some big punches early on.
"Wladimir has a lot of speed and a lot of athleticism for a big guy. Rarely do you get someone as big as him being as athletic," said Haye. "But I'm faster than him, punch harder and have greater punch variety.
"He's been knocked down in the past, but whether or not he's chinny I'll find out. If he is, he'll come unstuck pretty soon. I guarantee that I will land on his chin at some stage of the fight. He won't know what happened to him.
"I'll look to stick one on him as early as possible, let him know the power's there. He's going to get punished and hurt. I'm expecting him to come out and have a real good go because of his weight and size. I expect him to press the fight."