David Haye's speed can hurt Wladimir Klitschko - Lewis
Last updated on .From the section Boxing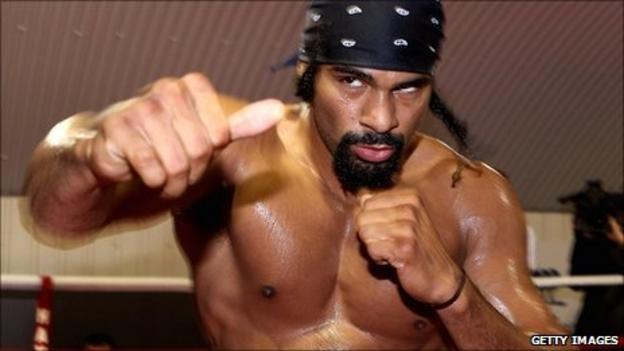 Lennox Lewis has said David Haye's speed and movement could be the deciding factors in his heavyweight clash with Wladimir Klitschko.
Lewis told Sportsweek on BBC Radio 5 live that Klitschko will start the 2 July bout with several advantages.
But the former world champion added that Haye could triumph if he repeats the tactics he used in beating giant Russian Nikolay Valuev in 2009.
"He fought a perfect fight, he kept moving, he stayed elusive," said Lewis.
"He has the speed and the weight in his arms and any shot he hits Klitschko with will be a shocking blow.
"Klitschko has the bigger advantages but if David is able to stay with his game plan and move and throw combinations he should do very well."
Lewis added that it is crucial for Haye to prevent Klitschko, 35, from using his weight advantage in the bout at Hamburg's Imtech Arena.
"His [Klitschko's] strength is his size, his reach and his weight," stated Lewis. "He has all those advantages and on paper he is the one they will pick to win because he is a natural heavyweight.
"Haye is light but he can use it to his advantage if he can stay away from him.
"But if they get into a clinch and Klitschko puts his weight on David it may sap some of David's energy."
Haye enjoyed success as a cruiserweight in the earlier part of his career and is still relatively light for a top-ranked heavyweight.
In his last fight, against Audley Harrison in November 2010, Haye weighed in at 15st 0.5lbs, 3st lighter than his opponent, though the weight disadvantage did not stop him from recording a third-round stoppage.
Haye also gave away more than 7st in weight against Valuev, but won a majority decision after 12 rounds.
Klitschko weighed in at 17st 9lbs before knocking out Nigeria's Samuel Peter in 10 rounds in September 2010. At 6ft 6.5in, he is also 3.5in taller than Haye.
Haye has admitted that the unification bout with Klitschko, who has 49 knockouts and 3 losses in his 58 fights, will be his "career-defining" contest.
The Londoner, who has lost only once in 26 contests, holds the WBA title, while his Ukrainian opponent holds the IBF and WBO belts.