David Haye calls Wladimir Klitschko a 'robot'
Last updated on .From the section Boxing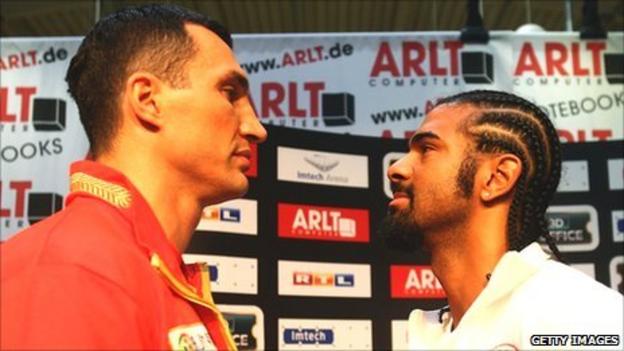 David Haye has said that Wladimir Klitschko is a "robot" that he will make "malfunction" in their world heavyweight unification bout.
Londoner Haye, 30, will pit his WBA belt against Klitschko's IBF and WBO titles in Hamburg, Germany on Saturday.
"Wladimir is in great shape, is mentally prepared and has viewed all the tapes on me," said Haye.
"But come fight night you will see something different and it will be great to watch this robot malfunction."
Haye was previously scheduled to face Klitschko in 2009, but pulled out with a back injury.
"I'm so happy the fight didn't happen a couple of years ago, because I'm so much better now," said Haye.
"People thought I was going to pull out, but here I am in tremendous shape and ready to do what I promised I would do.
"I am day-dreaming about the fight, dreaming about it, and we have drawn up the perfect game plan to beat Wladimir."
Haye also responded to a challenge made by Wladimir's brother Vitali in the final news conference before Saturday's fight.
Vitali, a potential future opponent for Haye, asked the Brit to guarantee he will face the media after the bout.
"I'm coming for you after the fight," said Haye.
"Don't go to the hospital with your brother. Make sure you're there, don't go with the ambulance."
Haye has previously stated that he will not compete past his 31st birthday on 13 October and is targeting a meeting with Vitali before then.
"It's good to see him getting involved," added Haye. "As the big brother, maybe he thought he needed to make his presence felt."
Before pulling out of the original bout two years ago, Haye had looked to provoke the Klitschkos by wearing a t-shirt that depicted him holding their severed heads.
In the run up to Saturday's bout, he has worn a shirt that shows him punching Wladimir's head from his shoulders.
"He acts cocky and carries himself very confidently in a very cool fashion and he has attitude," said Wladimir, who was made to wait for 30 minutes before Haye arrived at the news conference.
"Since you became champion, you have attitude and it's not so good for your life, inside or outside of the ring.
"I think you will learn a good lesson in the ring, I respect you as a fighter, not a person.
"It will be good for your life, you will learn some manners and you will be on time in future, after a count of 10 in the ring."